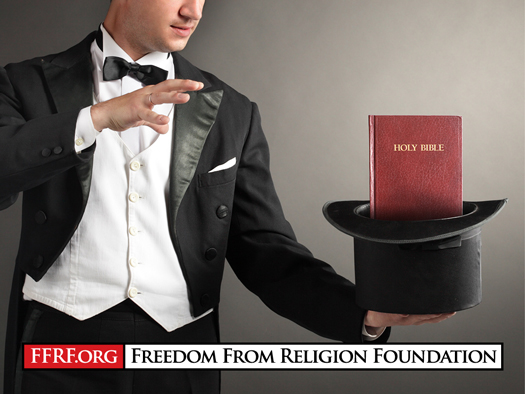 FFRF is calling attention to a serious constitutional violation at Moline-Coal Valley School District.
Several concerned district parents reported that multiple schools, including Wilson Middle School, hosted Zak Mirzadeh, an "illusionist," to give a mandatory assembly to students during the school day. After the performance, students were reportedly given invitations as they left the assembly and were also verbally invited to attend an evening performance. Students were told there would be free prizes and food at the evening performance, which took place at "New Life Fellowship."
One complainant attended the event to find an auditorium packed with middle school students. After performing some magic tricks, Mirzadeh told the audience about his conversion from Islam to Christianity.
Following his religious testimony, he asked the audience to bow their heads and close their eyes while he said a prayer, then asked members of the audience to raise their hand if they had "accepted Jesus tonight." He then instructed the audience to stand and asked those who had raised their hands to come forward to celebrate their "spiritual birthday" in an altar call.
FFRF understands that the Moline area, including schools that held this assembly, has a large Muslim population. This event appears to have been aimed specifically at convincing those students to leave their religion in favor of New Life Fellowship's version of Christianity.
It is well-settled law that public schools may not advance or promote religion. Courts have continually ruled that it is unconstitutional for school districts to provide a captive audience of students to outside adults to preach to, FFRF reminds the district.
"We are aware that some Christian missionaries insinuate themselves into public schools by camouflaging their purposes and professing to be experts in a secular field or, as in this case, popular children's entertainment," writes FFRF Staff Attorney Ryan Jayne in his letter to Superintendent Lanty McGuire. "It is incumbent that public officials do 'due diligence' when approached by outside groups with vested interests in pitching their message to a captive audience of public school students."
FFRF is requesting that the district investigate these claims and ensure that neither Nirzadeh nor other entertainers who are promoting religious events will be allowed to hold assemblies in the district in the future.
"This is one of the more egregious complaints we have received," says FFRF Co-President Annie Laurie Gaylor. "Not only has the district violated the rights of conscience of students and their parents, but it also allowed students of one minority religion to seemingly be specifically targeted for proselytizing from a person of another religion."
The Freedom From Religion Foundation is a national nonprofit organization with more than 32,000 members and several chapters across the country, including over 900 members in Illinois and a chapter in Chicago. FFRF's purposes are to protect the constitutional principle of separation between church and state, and to educate the public on matters relating to nontheism.