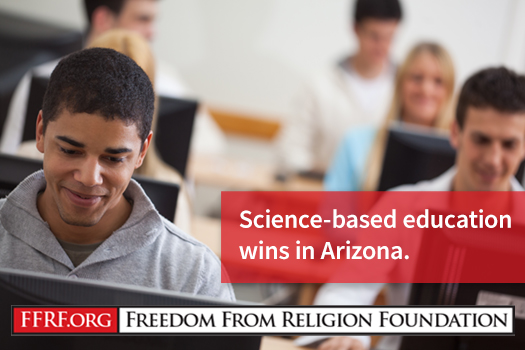 An attempt to de-emphasize evolution and pander to creationists in Arizona public schools has been shot down following pressure from the Freedom From Religion Foundation.
Earlier this year, Arizona's Superintendent of Public Instruction Diane Douglas attempted to alter the state's scientific education standards by eliminating numerous mentions of the words "evolution" and "climate change."
FFRF members took action to protect science-based education in Arizona and encourage the school board to reject public school teaching of religious stories that conflict with modern science.
Earlier this week, it was reported that Douglas would attempt a complete substitution of the science standards and replace them with material developed for charter schools by a private religious college. No other board members, however, were willing to second the motion to even consider the change, approving instead the standards with the edits provided by a science teachers' organization.
FFRF commends the other board members for keeping the best interest of the students and families they serve in mind.
"We are thrilled with this outcome and hope that it serves as an example to other public school boards around the country that attempts to weaken scientific education in favor of religious fiction will not be taken well," says FFRF Co-President Annie Laurie Gaylor.
The Freedom From Religion Foundation is a national nonprofit organization with more than 32,000 members across the country, including over 700 members in Arizona. FFRF's purposes are to protect the constitutional principle of separation between church and state, and to educate the public on matters relating to nontheism.