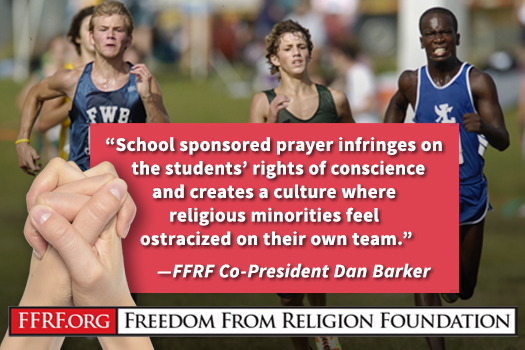 FFRF, a national state/church watchdog, is calling attention to a constitutional violation at an Illinois high school.
A concerned district parent reported that the Dunlap High School boys cross country coach joins his team in a group prayer prior to each cross country meet. The prayer is reportedly initiated by a student but the team's coach participates by standing with the students and holding his hat across his heart during the prayer, making any students who opt out feel like they are disappointing their coach.
It is well-established law that it is illegal for public school athletic coaches to lead their teams in prayers, or to otherwise promote religion to students, FFRF reminds the school. Additionally, the U.S. Supreme Court has routinely struck down school-sponsored prayer because it constitutes a government advancement and endorsement of religion, which violates the Establishment Clause of the First Amendment.
"A coach's participation in a student-initiated prayer coerces other students to participate as well, and sends a message of district approval of the prayer's religious message," writes FFRF Staff Attorney Ryan Jayne. "This is an improper and unconstitutional abuse of the coach's position as a public school official."
FFRF is asking that the school district commence an immediate investigation and take appropriate action to ensure that the coach will not continue praying with his students during district athletic events, encourage students to pray, or otherwise use his position as a district coach to promote religion.
"Students have the right to a secular public school," says FFRF Co-President Dan Barker. "School-sponsored prayer infringes on the students' rights of conscience and creates a culture where religious minorities feel ostracized on their own team."
The Freedom From Religion Foundation is a national nonprofit organization with over 32,000 members and several chapters across the country, including more than 900 members in Illinois and a chapter in Chicago. FFRF's purposes are to protect the constitutional principle of separation between church and state, and to educate the public on matters relating to nontheism.