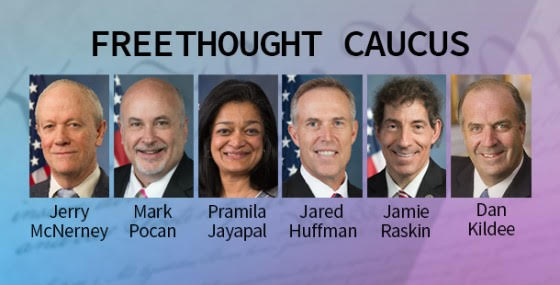 FFRF, a national state/church watchdog, is pleased that members of the Congressional Freethought Caucus, along with other House Democrats, penned a statement to the Senate Judiciary Committee Thursday warning against Brett Kavanaugh's confirmation.

The letter outlined six main areas of concern the group recognizes as disqualifying factors for Kavanaugh to serve a lifetime appointment on the Supreme Court.

Chief among these concerns is Kavanaugh referring to the "wall of separation" between church and state as a metaphor "wrong as a matter of law and history."

"The wall of separation is critical because genuine religious freedom requires a secular government," the letter says.

Additionally, the letter calls attention to Kavanaugh's history of hypersensitivity to burdens on religion, citing his 2015 dissent arguing that it is a "substantial burden" to ask a religious organization option out of the Affordable Care Act contraceptive mandate to fill out five blanks on a form, while two years later he deemed that forcing a 17-year-old girl detained as an illegal immigrant to continue her pregnancy did not constitute an "undue burden" on her constitutionally protected reproductive rights. Sen. Mazie Hirono, D-Hawaii, interrogated Kavanaugh on this very point and his answer fell flat.

Finally, the letter notes the threat Kavanaugh poses to 70 years of Establishment Clause jurisprudence, the danger he poses to our secular public schools, and his history of hostility towards secular Americans and state-church plaintiffs.

The members of the Freethought Caucus are Reps. Jared Huffman, D-Calif., Pramila Jayapal, D-Wash., Dan Kildee, D-Mich., Jerry McNerney, D-Calif., Mark Pocan, D-Wis., and Jamie Raskin, D.Md. Additional members of Congress who signed onto the letter include Reps. Judy Chu, D-Calif., David Cicilline, D-R.I., Mark DeSaulnier, D-Calif., Henry "Hank" Johnson, Jr., D-Ga., Barbara Lee, D-Calif., Zoe Lofgren, D-Calif., Carolyn Maloney, D-N.Y., James McGovern, D-Mass., Eleanor Holmes Norton, D-D.C., and Jan Schakowsky, D-Ill.

"After three days of Kavanaugh's hearings, it is clear he is not fit to serve on the Supreme Court and uphold the constitutional principle of separation of state and church," says FFRF Co-President Annie Laurie Gaylor. "We are happy to see Congress stepping up to protect one of the foundational principles of our republic."

Freedom From Religion Foundation is a national nonprofit organization with more than 32,000 members across the country. FFRF's purposes are to protect the constitutional principle of separation between church and state, and to educate the public on matters relating to nontheism.