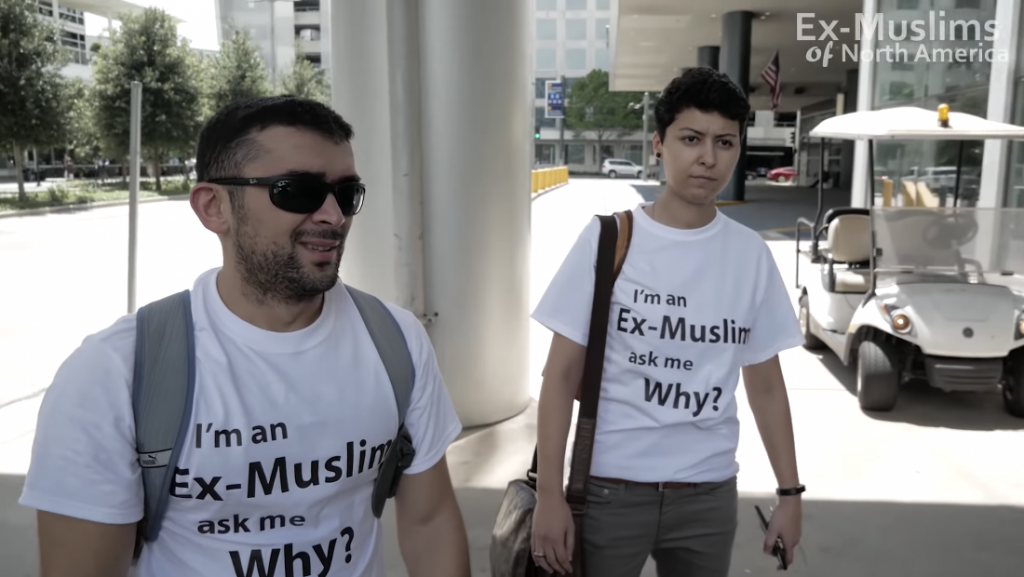 FFRF is calling attention to a serious civil rights violation that occurred at a Hilton Starbucks in Houston the past weekend.
Several volunteers of the Ex-Muslims of North America (ExMNA) were enjoying the beverages they purchased in the Hilton-Americas Houston when they were ejected for no reason other than their lack of religion.

These individuals were in the city for the Islamic Society of North America's annual conference to share their personal stories and pass out fliers to attendees. They were wearing T-shirts that said "I'm an Ex-Muslim, Ask Me Why" and other slogans. They only engaged with those who wished to discuss their stories and were not protesting the conference.

These members bought beverages from the Hilton Starbucks and sat down to drink them when they were asked to leave the establishment. According to the members, the woman asking them to go away said it was because they were not allowing protesters on the property. The volunteers assured the woman they were not protesters.

"I was then told that even though I was a paying customer, I was not allowed to be on the premise as it was reserved for guests and event members for the weekend and that they will not be allowing anyone else on their private property," explains one complainant. "The Starbucks was still open to the public and I didn't see anyone else being asked to leave."

Security guards repeatedly told ExMNA that they were trespassing, even though this was a public café at which they had purchased drinks.

"The rationale the guards belatedly attempted to rely on, that the group were protesters, was pretextual," writes FFRF Director of Strategic Response Andrew Seidel. "First, the members of ExMNA were not protesting, but sitting quietly with the beverages they'd purchased from your store, which is open to the public. In fact they were not engaging in any behavior to distinguish them from any other paying, non-disruptive Starbucks patron."
"As a place of 'public accommodation,' it is illegal for Hilton, Starbucks, or a Starbucks in a Hilton to discriminate on the basis of religion," Seidel's letter notes. "Even had they been protesters, they were not protesting, Seidel writes. "Once a protester does not mean always a protester. Refusing to serve a group of ex-Muslims is refusing to provide equal enjoyment of goods, services, privileges, and advantages on the basis of religious identification. It is unlawful discrimination."
ExMNA members put into a broader context the discrimination they suffered at Starbucks.

"As ex-Muslims, we struggle to gain access to even the most basic dignities and rights across the world. In over a dozen countries, the penalty for Muslims leaving the faith is death with criminal statutes in numerous other countries as well," explains ExMNA Executive Director Sarah Haider. "Even when there is no state persecution, we are often targeted at the hands of violent mobs. In the United States, ex-Muslims are shunned, ostracized, even abused by far too many families, all in the name of religion. At ISNA, we were simply there to engage with the Muslim community, to raise awareness of the experiences of ex-Muslims and implore Muslims to stand with us not against us. It is a shame that Hilton Hotels and Starbucks chose a path of discrimination instead of affirming the equal rights and civil liberties atheists are entitled to."
Haider is receiving the Freethought Heroine Award at FFRF's upcoming annual convention.

FFRF is requesting information about the business relationship between Starbucks and Hilton to understand accountability for this violation.

The Freedom From Religion Foundation is a national nonprofit organization with over 32,000 members across the country, including more than 1,300 in Texas. FFRF's purposes are to protect the constitutional separation between state and church, and to educate the public on matters relating to nontheism.