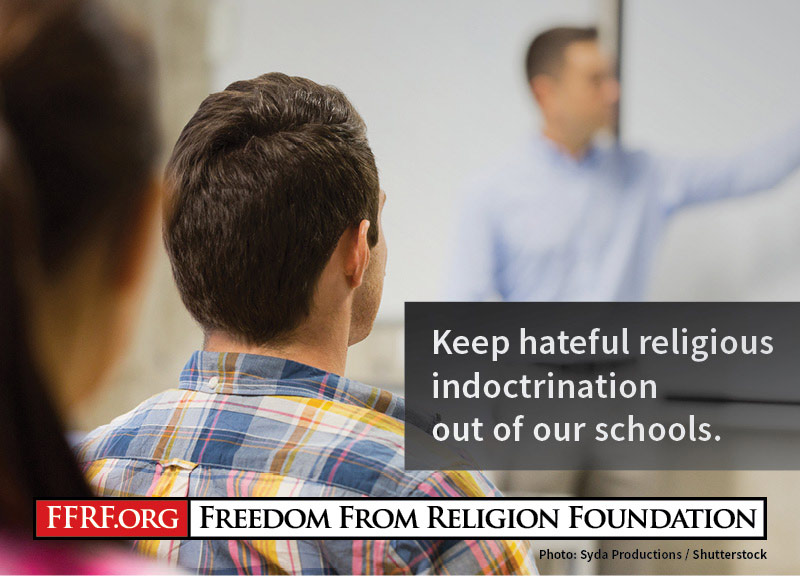 The Freedom From Religion Foundation, a national state/church watchdog, has issued a warning to a California public charter school after receiving a complaint that a teacher made extremely disturbing comments about homosexuality during class.
According to FFRF's complainant, a teacher in Nova Academy Early College High School's Coachella Campus (NOVA) made statements during class to students regarding religion and homosexuality in defense of conversion therapy. This teacher told students that homosexuals can go to their pastor for counseling to become heterosexual again.
The teacher reportedly went on to say, "Homosexuality is an act, it's a sin, it's an act." She then discussed a friend of hers, who she claims is only a homosexual because of abuse he suffered as a child. She then told students that she has a few bibles and offered to let students borrow one.
It is well-established law that public school teachers may not promote religious beliefs to students. The Supreme Court has routinely struck down teacher or school-led religious promotion in public schools, and held that, "a school can direct a teacher to 'refrain from expressions of religious viewpoints in the classroom and like settings.'"
"Public school teachers may not promote religion during class," writes FFRF Patrick O'Reiley Legal Fellow Christopher Line. "This is a violation of students' right of conscience and of the trust that parents have placed in the school to educate their children without encroaching on their right to raise their children in whatever religion they choose or no religion."
In addition to its blatant unconstitutionality, this sort of speech is also ethically reprehensible.
"This sort of divisive religious rhetoric borders on hate speech and has no place in our schools," says FFRF Co-President Annie Laurie Gaylor. "A teacher is entrusted with facilitating students' academic growth, not indoctrinating them with pernicious religious bigotry."
FFRF is a national nonprofit organization with more than 32,000 members across the country, including more than 4,000 members in California and a chapter in Sacramento. FFRF's purposes are to protect the constitutional principle of separation between church and state, and to educate the public on matters relating to nontheism.