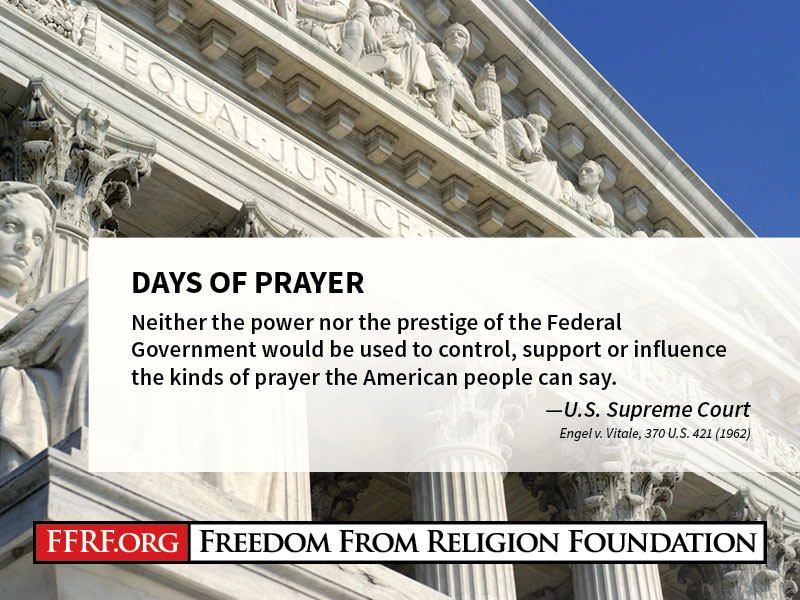 A trio of civil liberties groups is asking the city of Kissimmee, Fla., to rescind its "Call to Fast and Prayer" event and proclamation by the close of business on Friday, Aug. 17.
The Freedom From Religion Foundation, in partnership with the ACLU of Florida and the ACLU of Florida's Central Chapter, formally renewed requests to stop the unconstitutional actions in a Aug. 16 letter to the mayor of Kissimmee.
The City of Kissimmee initiated a proclamation signed by Mayor Jose Alvarez, calling in part for "Forty days of prayer for peace, justice, love and solidarity between men and women of all faiths, and invite[s] all residents to join them in this celebration by praying,..."
The joint letter points out that "the First Amendment prohibits the government and its actors from interfering with the free exercise of religion, and bars the government and its actors from establishing religion."
The three challenging organizations also submitted an open records request seeking all documents, records and communications regarding the proclamation, the city's proclamation policies, the design, printing and costs of "40 days of fasting and prayer" signage in front of the city commission chambers, plus signage rules. Lastly, the groups seek all documents, records and communications to do with the rental and usage of Shingle Creek Regional Park-Ruba location, for the city's Aug. 21 "prayer vigil."
FFRF, ACLU-FL, and the ACLU-FL's Central Chapter note that the mayor's proclamation violates all three prongs of the Lemon test, the principal tool to evaluate the constitutionality of government action under the Establishment Clause. Failing one prong is enough to be considered unconstitutional.
FFRF previously sent a letter calling on the mayor to retract this proclamation and cancel the Aug. 21 call to prayer event. In their Aug. 10 letter, FFRF Co-Presidents Annie Laurie Gaylor and Dan Barker reminded the mayor that "using your official capacity as mayor to unabashedly promote a religion ritual, like fasting or prayer, sends an official and impermissible message of religious endorsement and of exclusion to many of your constituents."
FFRF represents more than 32,000 nonreligious Americans, including members in Kissimmee and more than 1,500 throughout Florida, plus a central Florida chapter.