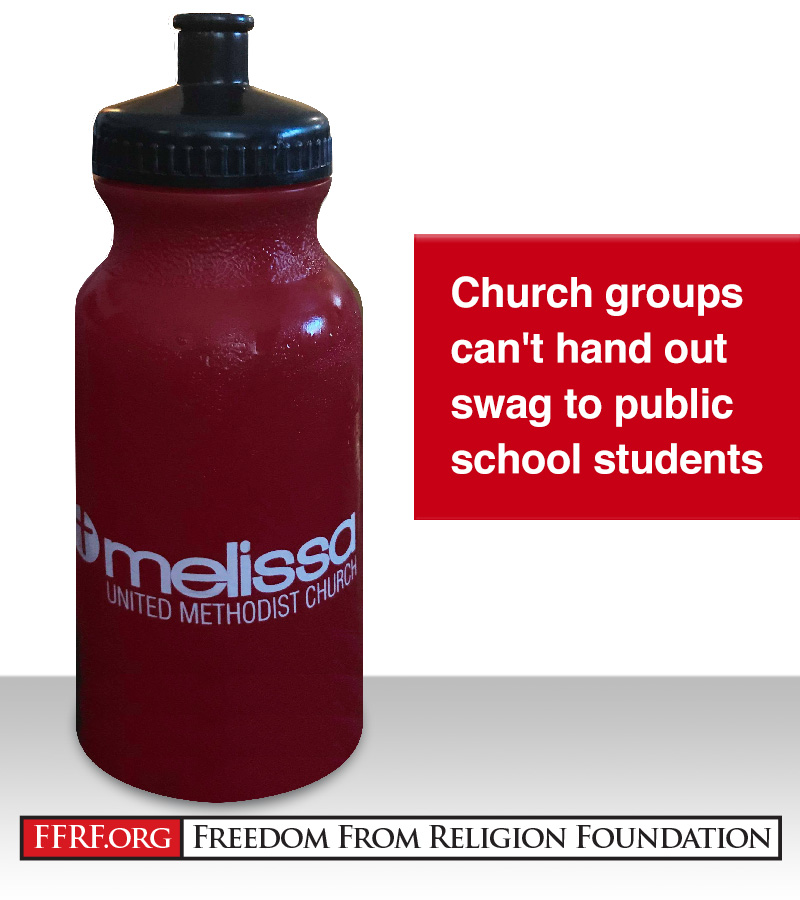 The Freedom From Religion Foundation is chastising a Texas school district for forcing down the throats of its summer school students an unconstitutional sort of lesson.
A concerned Melissa Independent School District parent informed FFRF that district employees recently permitted a church group to distribute religious paraphernalia to students participating in the district's Ignite summer school program. Students in this program each received a red water bottle advertising Melissa United Methodist Church on the side, including a Christian cross.
The district cannot constitutionally permit outside religious groups to advertise to students during school-sponsored programs, FFRF reminds officials.
"Though the district may permissibly seek donations from local businesses and community groups to supply its summer school programs, the district has an obligation to ensure that its programs remain free from religious endorsements," FFRF Associate Counsel Sam Grover writes to Melissa ISD Superintendent Keith Murphy. "This obligation extends beyond school employees to any adult volunteering within the schools. When school employees or volunteers include religious advertising in a school-sponsored summer program, they take religion out of the private sphere and violate parental trust."
This type of endorsement often has broader repercussions. In many cases, FFRF has learned that this sort of divisive message regarding a school's preference for religion over nonreligion or one specific religious denomination is taken up by students within a school, resulting in the bullying of those students who choose to exercise their conscience by not accepting an offered religious item. Melissa ISD should be striving to create an inclusive, secular environment in which students can learn without fear of being asked to compromise their personal beliefs and without fear of being subjected to religiously motivated bullying, FFRF emphasizes.
FFRF requests that the district investigate this water bottle distribution and any related partnership between the summer school program and Melissa United Methodist Church to ensure that church representatives are not being granted access to proselytize students.
"Symbolism matters," says FFRF Co-President Annie Laurie Gaylor. "The decision to distribute water bottles with church names and crosses is all wet. Even a seemingly small thing such as a Christian water bottle in a public summer school program sends the wrong signal to students of minority religions and no religion at all."
The Freedom From Religion Foundation is a nationwide nonprofit organization with the purposes of educating the public on matters related to nontheism and protecting the constitutional principle of separation between state and church. It currently has more than 32,000 members across the country, including over 1,400 members in Texas.