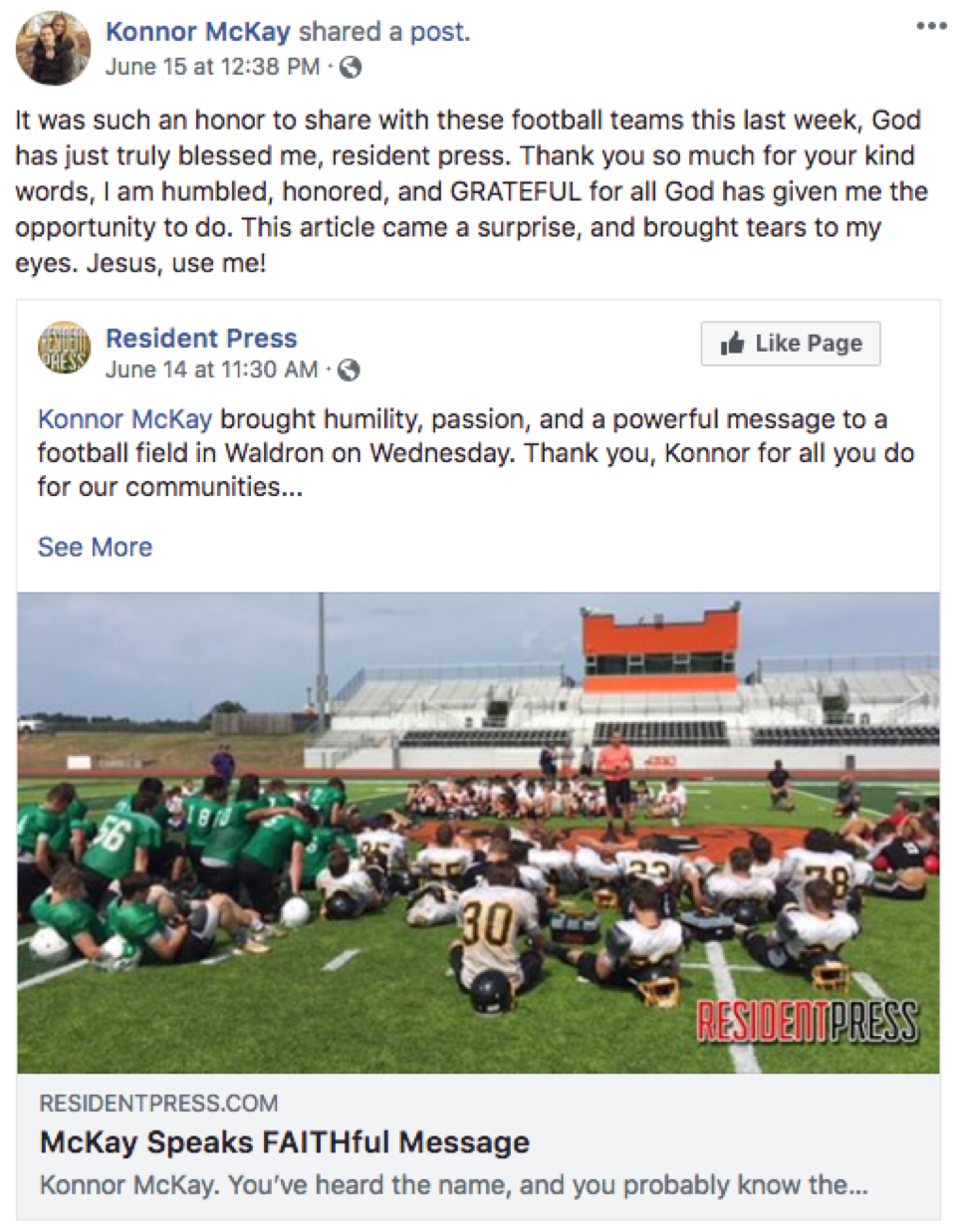 The Freedom From Religion Foundation is calling foul on recent religion-infused high school football camps in Arkansas.
Last month, two school-sponsored football camps held in the state invited preachers to proselytize players.
On June 5, evangelist Tyson Simon, an area representative for the Western Arkansas Fellowship of Christian Athletes, subjected a number of teams to Christian evangelization at a football camp held at Hackett High School. "Hackett was the destination, Simon was the vehicle, and God was definitely the Focus, the message, and the reason," states a local paper. Clarksville, Cedarville, Waldron, Hackett and Mansfield high schools attended the camp, as well as several schools from Oklahoma.
On June 13, evangelist Konnor McKay proselytized players from various teams at a camp at the Waldron High School. McKay is the lead evangelist at Konnor McKay Ministries and lead pastor at Waldron Pentecostal Church of God. "McKay followed up on an invite from new Waldron Head Coach Jonathan Bates to speak to the many teams that descended upon Bulldog Stadium to inspire and impact the lives of the youthful footballers, coaches, and attendees," states the local paper. In a Facebook post, McKay stated that he "had the honor of sharing the word of God with several high school football teams … including Mansfield, Danville, Lavaca, Hackett, and Waldron."
The camps were highly publicized on the schools' social media, and team members were encouraged — or, in some cases, required — to attend.
It is a fundamental principle of Establishment Clause that public schools may not advance, prefer or promote religion, FFRF is reminding all the schools involved.
"Requiring or even encouraging players to attend this camp sends a message approving of Christian evangelism — any player would reasonably conclude that the proselytizing they experience at these camps has been 'stamped with [the] school's seal of approval,'" writes FFRF Robert G. Ingersoll Legal Fellow Colin McNamara, quoting the U.S. Supreme Court. Students should not have to choose between participating in school-sponsored programs and violating their right of conscience. This coercive practice alienates the 46 percent of Americans born after 1987 who are not Christian."
And it is irrelevant whether participation in the camp was optional, FFRF emphasizes. Federal courts have summarily rejected arguments that "voluntariness" excuses a constitutional violation.
"The subjection of so many students to what amounts to coercive proselytization begs belief," says FFRF Co-President Annie Laurie Gaylor. "Parents send their students to football camps to become better players, not to be brainwashed. Public school students should not have to pray to play."
The Freedom From Religion Foundation is a national nonprofit organization with over 32,000 members across the country, including members in Arkansas. FFRF's purposes are to protect the constitutional separation between state and church, and to educate the public on matters relating to nontheism.