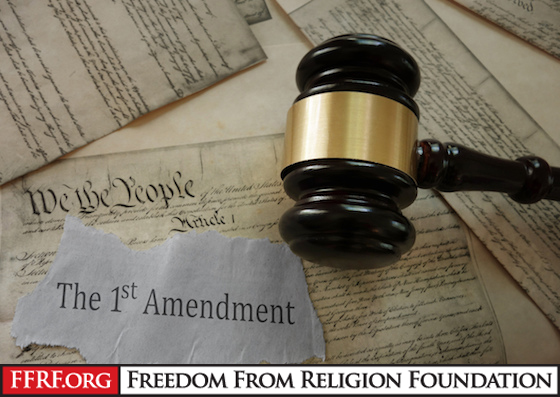 After a grim week of news out of the U.S. Supreme Court, the Freedom From Religion Foundation is delighted to point out one bright spot. The high court yesterday denied an appeal of an appeals court decision striking down a coercive prayer practice by a North Carolina county board.
FFRF had signed on to a friend-of-the-court brief filed in 2015 with the 4th U.S. Circuit Court of Appeals, asking it to put a stop to the Rowan County Board of Commissioners' practice of coercing citizens to participate in Christian prayers at its meetings. Since at least November 2007, Rowan County officials opened their meetings with Christian prayers nearly 100 percent of the time. These Christian prayers, by the commissioners themselves, repeatedly referenced "Jesus" and "the Savior."
The commissioners also instructed attendees to join in those prayers.
Last July, the full bench of the 4th Circuit resoundingly ruled that the Rowan County commissioners were violating the Constitution. The court's judgment closely followed the language of the brief that secular groups filed.
"We conclude that the Constitution does not allow what happened in Rowan County," stated the ruling. "The prayer practice served to identify the government with Christianity and risked conveying to citizens of minority faiths a message of exclusion."
The U.S. Supreme Court's refusal to hear this case means that the 4th Circuit's decision will remain binding precedent in North Carolina, South Carolina, Virginia and West Virginia.
"This is a significant step toward removing divisive religious exercises from public government meetings," says FFRF Co-President Dan Barker. "Rowan County commissioners should never have forced their religious beliefs on their constituents."
"After all, a government on its knees is on its last legs," quipped Annie Laurie Gaylor.
FFRF is also celebrating the Iowa Supreme Court's block on a law that required women seeking abortion care to wait 72 hours.
FFRF is a national nonprofit organization with 33,000 nonreligious members and chapters all across the country, including 600-plus and a chapter in North Carolina. Its purpose is to protect the constitutional principle of separation between state and church.
Photo Source: zimmytws / Shutterstock