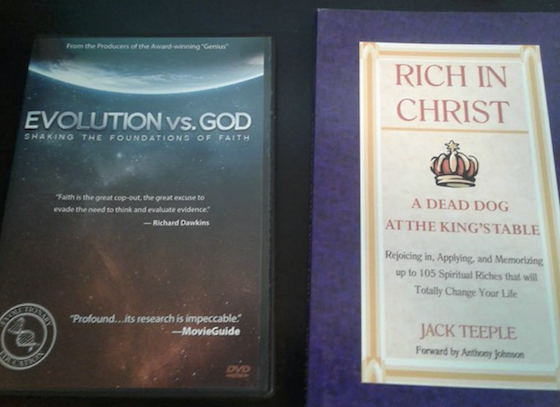 The Freedom From Religion Foundation is chiding an Ohio public school district for its unabashed promotion of Christianity.
A concerned student reported that during Hicksville High School's commencement practice on May 30, a guidance counselor handed every graduating student a package that contained Christian materials. The package included a copy of "Evolution vs. God," an anti-evolution film created by Christian evangelist Ray Comfort, "Rich in Christ: A Dead Dog at the King's Table," a religious tract titled "Are you a Good Person," and a religious pamphlet that "explains the plan of salvation in easy-to-understand terms" called "Life's Most Important Question." FFRF's complainant reports that this package was put together by a science teacher at the school.
This package included a letter titled "Hicksville High School Class of 2018," which reads:
Congratulations 2018 Graduate!
As you look ahead to your future with excitement and great anticipation, may you also come to discover God's very best for your life. God loves you so very much that He sent His Son Jesus to earth to die for your sins so that you may have a personal relationship with God, and be assured of an eternal home in Heaven.
Rich in Christ is filled with hope and encouragement for you. It contains dozens of wonderful promises from the Bible, that God wants you to understand and claim as your very own. May you find God's richest blessings as you follow His leading and His blueprint for true success. Enjoy your riches!
"For you know the grace of our Lord Jesus Christ, that though he was rich, yet for your sakes he became poor, so that you through his poverty might become rich."
II Corinthians 8:9
The letter indicates that a number of local individuals and businesses, including Hicksville Exempted Village School Superintendent Keith Countryman and his wife, sponsored the gift package.
"It is a fundamental principle of Establishment Clause jurisprudence that a public school may not advance, prefer, or promote religion," FFRF Legal Fellow Chris Line writes to Countryman. "As a public school, Hicksville High School cannot promote Christian religious doctrine by distributing proselytizing materials to students as part of graduation rehearsal, a school function. This violates the principle that 'the preservation and transmission of religious beliefs and worship is a responsibility and a choice committed to the private sphere,'" to quote the U.S. Supreme Court.
The school district has an obligation under the law to make certain that "subsidized teachers do not inculcate religion," to again quote the U.S. Supreme Court. When faculty use school time to proselytize to students, whether it be through distribution of literature or through religious statements, they are taking religion out of the private sphere and violating parental trust.
Religion is a divisive force in public schools, FFRF emphasizes. When a school distributes sectarian religious literature to its students it entangles itself with those religious messages. As well as alienating non-Christian students, teachers, and members of the public whose religious beliefs are inconsistent with the message being promoted by the school, these practices estrange the 24 percent of Americans, including 38 percent of young adults, who identify as nonreligious. prri.org/wp-content/uploads/2017/09/PRRI-Religion-Report.pdf
"It is a violation of the duties and responsibilities of public school staff to proselytize students," says FFRF Co-President Annie Laurie Gaylor. "Imagine the uproar if a staff member was propagating atheism or Islam."
Gaylor calls the school officials' actions "bizarre," saying that it is particularly concerning that a science teacher had a hand in distributing anti-evolution propaganda to graduating seniors and that the superintendent sponsored the unconstitutional distribution.
FFRF insists that to avoid constitutional violations, any future graduation "gifts" distributed by Hicksville Exempted Village School staff as part of a school function not contain religious materials.
The Freedom From Religion Foundation is a national nonprofit organization with 33,000 members and several chapters across the country, including more than 800 members and a chapter in Ohio. Its purposes are to protect the constitutional principle of separation between state and church, and to educate the public on matters relating to nontheism.