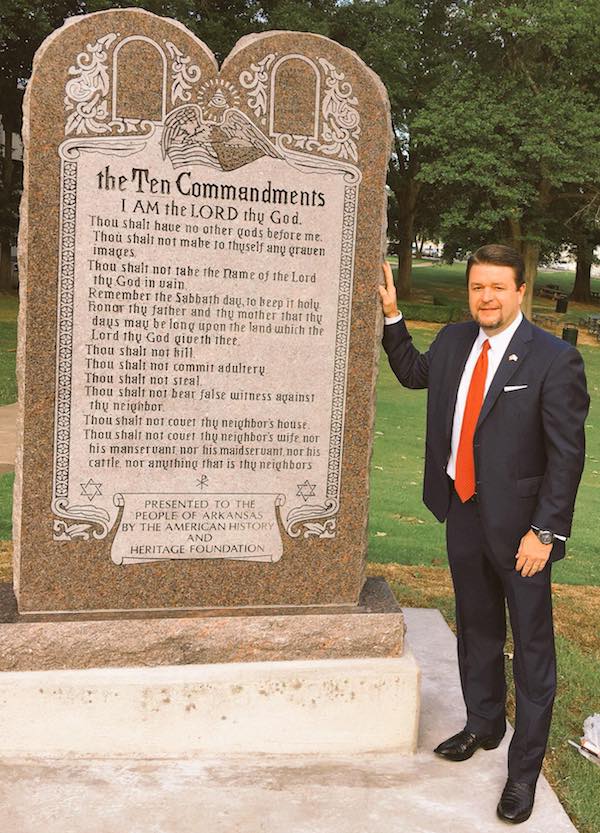 Arkansas state Sen. Jason Rapert, who sponsored the Ten Commandments law, stands near the first monument prior to its destruction.
The Freedom From Religion Foundation and a coalition of plaintiffs filed a lawsuit today against Arkansas Secretary of State Mark Martin seeking the removal of a massive Ten Commandments structure from the grounds of the Capitol.
In June 2017, the state placed a Ten Commandments monument at the Capitol, which was destroyed within 24 hours. Last month, a second Ten Commandments monument was installed at the same site, this time with protective barriers to prevent intentional destruction.
FFRF and its co-plaintiffs assert that this installation is in clear violation of constitutional precepts. The plaintiffs include FFRF, the American Humanist Association, the Arkansas Society of Freethinkers, as well as seven individual plaintiffs who are religious and nonreligious citizens of Arkansas.
"The state of Arkansas has erected an enormous religious monolith on government property in blatant disregard for the First Amendment to the United States Constitution," the suit states. "The new monolith — a 6-and-one-third-foot tall Ten Commandments statue — stands prominently on the state Capitol grounds."
The suit details how the Arkansas Legislature initiated this unconstitutional move.
"In 2016, the Arkansas General Assembly enacted Act 1231, the Ten Commandments Monument Display Act," it states. "The purpose of the act was to permit the placing of a monument to the Ten Commandments on the grounds of the Arkansas state Capitol. The exact text of such a monument was prescribed by the General Assembly."
State Sen. Jason Rapert was the primary sponsor of the legislation. Rapert also created a Go Fund Me campaign to raise money for the monument.
The suit points out that the Assembly went ahead with its plans in spite of objections to the placement of the Ten Commandments monument at public hearings by religious adherents of many stripes, as well as nonbelievers, who emphasized that the monument violated both the U.S. and the state Constitutions.
The lawsuit, which was filed in the U.S. District Court for the Eastern District of Arkansas, seeks a declaration that the monument is unconstitutional, an injunction directing the defendant to remove the monument, and costs and attorneys' fees. The state could be on the hook for a substantial amount of money when it loses the case. Earlier this year, a city in New Mexico was ordered to pay $700,000 in attorneys' fees after unsuccessfully defending a Ten Commandments monument in court. FFRF has also prevailed in recent years in two cases that succeeded in removing Ten Commandments monuments from Pennsylvania schools.
"The state of Arkansas has no business telling citizens what religious practices and beliefs to engage in," says FFRF Senior Counsel Patrick Elliott. "This Ten Commandments monument violates the rights of conscience of citizens."
The Freedom From Religion Foundation is a state/church watchdog organization with more than 33,000 members nationwide, including in Arkansas.