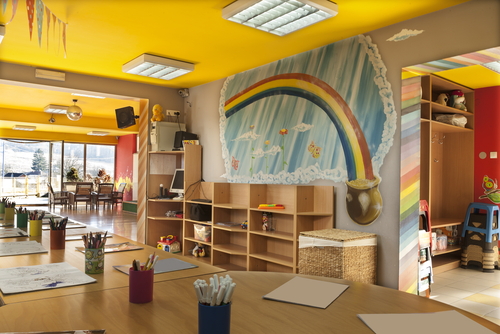 The Freedom From Religion Foundation (FFRF) is objecting to a teacher-led religious club at an elementary school in Indiana.
It was brought to FFRF's attention that Evansville Vanderburgh School Corporation (EVSC) has been sponsoring the Fellowship of Christian Students — a teacher-led religious club aimed at students — at Daniel Wertz Elementary School. Last month in an email forwarded to FFRF, EVSC Chief of Staff Rick Cameron stated that the club does not pay rental feels because it "is a faculty-sponsored club similar in form and function to a chess club, a soccer club or the GSA (Gay-Straight Alliance)."
Three district employees organize and lead the Fellowship of Christian Students. They have used their positions and district resources to promote the club to students with a flyer that they sent home with students and posted on social media, further demonstrating that the club is undeniably school sponsored.
"It would be disingenuous to argue that the club is student-initiated or student-run, especially given the young age of the students at Daniel Wertz Elementary," writes FFRF Staff Attorney Ryan Jayne in a letter sent to the school district. "There is no doubt that the club's organizers are acting in their official capacities as district representatives when they promote and lead this religious club."
FFRF points out that teacher-run, school-sponsored religious clubs are impermissible under the Establishment Clause. Even when student religious clubs are permissible, it is inappropriate and unconstitutional for district staff to lead or organize a student religious club, or to otherwise suggest that the district sponsors the club and, thus, its religious mission.
The Equal Access Act, which allows student-initiated religious clubs to form at secondary schools, does not apply to elementary schools. Elementary school students are rarely capable of running a club without adult supervision. However, FFRF notes that if student-initiated religious clubs are allowed, teachers may not participate in any way.
"The district's apparent attempt at treating religious clubs identically to secular clubs, such as a chess club, is fundamentally misguided when that treatment includes staff participation, district sponsorship or any other indication that the district endorses the club or its message," writes Jayne. "The district can initiate, promote, and lead a chess club, but not a religious club. There is no constitutional separation between chess and state."
FFRF is requesting that the Fellowship of Christian Students be disbanded and for assurance that in the future Daniel Wertz Elementary School staff will not organize, lead or participate in school religious clubs.
This is the second complaint within Evansville Vanderburgh School Corporation that FFRF has received this academic year. Last November, FFRF asked the district to put a stop to a coach at Reitz High School praying with students. The district never provided assurances that it had corrected this unconstitutional behavior. FFRF additionally points out in its recent letter to the district that "significant training for school administrators and other school staff on this issue is clearly warranted, especially given that this is the second incident this school year that FFRF received complaints of district employees flagrantly using their government position to promote religion to their students."
The Freedom From Religion Foundation is a national nonprofit organization with more than 33,000 members, including over 400 in Indiana. FFRF's purposes are to protect the separation between state and church, and to educate the public on matters related to nontheism.
Photo Source: Aleksander Krsmanovic / Shutterstock