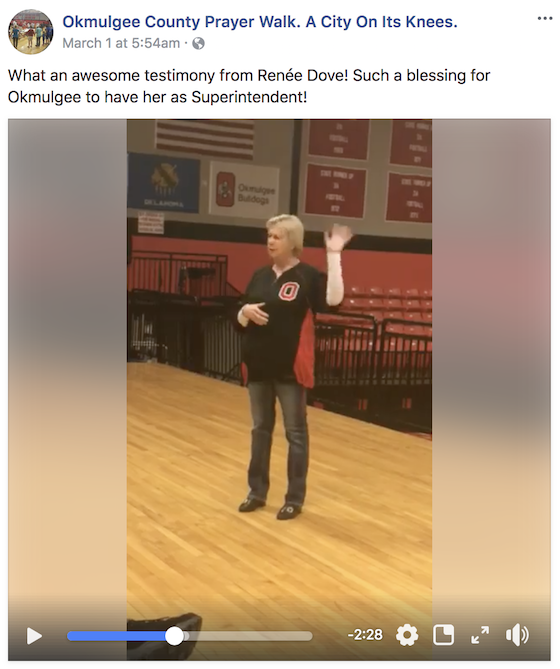 The Freedom From Religion Foundation (FFRF) is alerting an Oklahoma school district about serious First Amendment concerns.
It was brought to FFRF's attention that on Feb. 24, Okmulgee Public Schools Superintendent Renee Dove spoke at a "prayer walk" for Okmulgee County. During the speech, Dove highlighted multiple ways that she has been using her position as superintendent to proselytize her personal religion to students. This included instructing librarians to put out the bible and lead children to it.
"Encourage your children to come with a boldness to school and speak the word and start talking about stories from God's word and start telling their teacher, 'at Sunday school I said this,' because those Christian teachers will begin to pick up on that. I know as a teacher that's exactly what I did. And I was able to take that, because if they tell the story first, we as teachers can lead them to tell the whole classroom. We can't, but they certainly can. And so, I encourage you to do that."
In a letter sent to Okmulgee Board of Education President Mike James Sr., FFRF warned that Dove can no longer be permitted to abuse her position as superintendent to promote her personal religion or encourage other Okmulgee Public Schools staff to do so.
"It is well settled that public schools may not advance or promote religion," writes FFRF Legal Fellow Chris Line. "No school district or administrator may urge religious points of view on students, either by directing staff members to promote the bible to students or by instructing parents to direct their children to tell bible stories during class."
When a district administrator brags about ordering staff and parents to promote Christianity over all other faiths to impressionable students, it alienates those non-Christian students — nearly half of young Americans — whose religious beliefs are inconsistent with the message being promoted.
Furthermore, FFRF emphasizes that parents expect public school staff members to act in accordance with the Constitution and not preach to students.
"The students' right of conscience has been grossly violated," says FFRF Co-President Annie Laurie Gaylor. "Okmulgee Public Schools must issue an apology to parents and students and take immediate action to ensure similar violations do not recur."
FFRF is insisting the district commence an investigation into these concerns and ensure that its leaders refrain from promoting religion in any way.
The Freedom From Religion Foundation is a national nonprofit organization with 32,000 members across the country, including members in Oklahoma. Its purposes are to protect the constitutional principle of separation between state and church, and to educate the public on matters relating to nontheism.