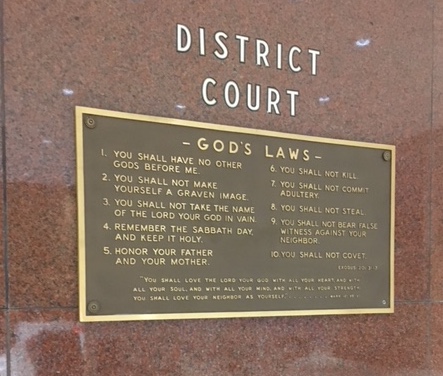 The Freedom From Religion Foundation is pleased that a Minnesota county has removed a Ten Commandments plaque that was long on display in one of its courthouses.
It was brought to FFRF's attention that Saint Louis County was prominently displaying a plaque that contained the Ten Commandments and a bible passage underneath the Saint Louis County seal in the county courthouse in Hibbing, Minn.
The plaque read, "GOD'S LAWS," with the commandments listed underneath and the biblical passage:
"YOU SHALL LOVE THE LORD YOUR GOD WITH ALL YOUR HEART, AND WITH ALL YOUR SOUL, AND WITH ALL YOUR MIND, AND WITH ALL YOUR STRENGTH, YOU SHALL LOVE YOUR NEIGHBOR AS YOURSELF"………MARK 12: 30-31

FFRF wrote to County Administrator Kevin Gray warning the county that Ten Commandments displays within or near courtrooms unconstitutionally affiliate the justice system with biblical prohibitions rather than secular law.
"Given the content of the display, a reasonable observer would view it as an endorsement of religion," wrote FFRF Senior Counsel Patrick Elliott. "The display directly connects Saint Louis County and the district court with Christianity."
The Saint Louis County attorney's office notified FFRF this week that the plaque has been removed. FFRF is applauding the county's action to comply with the Establishment Clause of the First Amendment and better represent all county residents, including non-Christians.
"It is grotesque to insinuate that the Ten Commandments are associated with a county government's justice system in any way," says FFRF Co-President Annie Laurie Gaylor. "Saint Louis County did the right thing."
The Freedom From Religion Foundation is a national nonprofit organization with more than 32,000 members and 20 chapters across the country, including over 700 members and two chapters in northern Minnesota, the Lake Superior Freethinkers and the Grand Rapids Atheists and Freethinkers. Its purposes are to protect the constitutional separation between state and church, and to educate the public on matters related to nontheism.