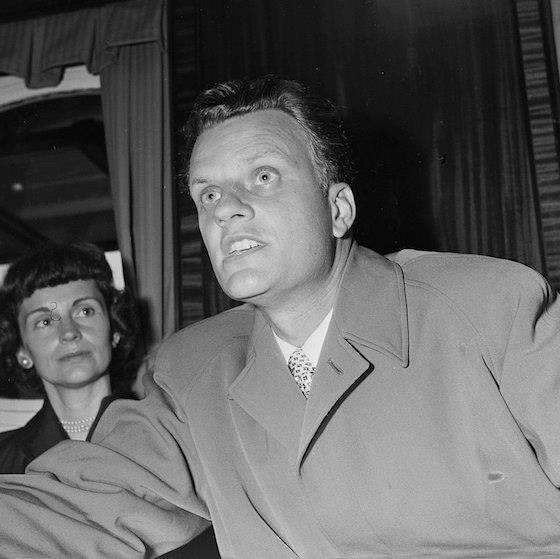 The Freedom From Religion Foundation denounces various governmental efforts to venerate the late Billy Graham.
A federal order instructed that flags be lowered to half-mast today, just after Graham was "lain in honor" in the U.S. Capitol rotunda. And North Carolina is proceeding with a 2015 request to place a statue of Graham in the National Statuary Hall Collection at the U.S. Capitol.
While it would be fitting for evangelical Christian organizations to honor him, it is not appropriate for our federal and state governments to do so.
Despite supporters' insistence that Graham is a universally beloved figure, he had a checkered history, including anti-Semitism, disdain for atheists and other alienating and divisive views. Furthermore, he was a religious figure who had no redeeming secular achievements (unlike personalities such as Martin Luther King Jr.).
In 2015, FFRF's co-presidents wrote to then-N.C. Gov. Pat McCrory opposing a plan to erect a statue of Graham at the U.S. Capitol as a replacement for a statue of onetime N.C. Gov. Charles Brantley Aycock. FFRF applauded North Carolina for its decision to get rid of the Aycock statue, since he was a well-known opponent of civil rights and a proponent of discrimination.
However, switching Charles Aycock with Billy Graham only swaps one divisive figure for another. North Carolina has far more worthy candidates. FFRF has recommended longtime Winston-Salem resident and legendary litterateur Maya Angelou as a suitable replacement for Aycock (only nine of 100 statues in Statuary Hall are of women). Others have suggested figures such as African-American civil rights leader, lawyer and educator Julius Chambers.
The decision to lower flags to half-mast in honor of Billy Graham follows on the heels of Graham receiving a rare tribute of "lying in honor" in the Capitol rotunda, which FFRF has also condemned. Graham consistently found himself on the wrong side of history, opposing gay rights and marriage equality and retracting anti-Semitic statements only when it became necessary to do so.
Billy Graham stood against much of what makes this country noble. He is not worthy of governmental praise or honors.
The Freedom From Religion Foundation is a nationwide nonprofit educational association that on behalf of its 32,000 members nationwide works to uphold the constitutional principle of separation of church and state, and to educate the public about nontheism.