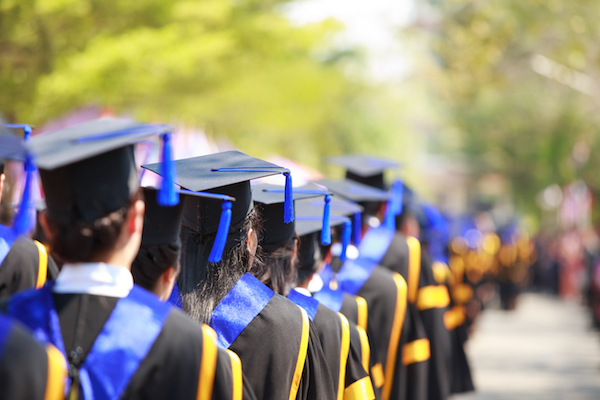 The Freedom From Religion Foundation is thrilled that a Texas school district has moved its graduation ceremony to a secular venue.
Unfortunately, the minister of the church where graduation ceremonies had previously been held has decried the district's decision on social media, calling it "an attack" on "religious freedom." FFRF seeks to correct the factual inaccuracies.
In 2016, FFRF raised concerns over McKinney Independent School District's graduation that has traditionally been hosted at Prestonwood Baptist Church. The commencement ceremony for the district's three high schools took place in the church sanctuary, which is decorated with traditional Baptist symbols including Latin crosses.
FFRF Associate Counsel Sam Grover wrote to the district after several district community members raised concerns over the impression that the district was endorsing Christianity. Grover informed the district that the Establishment Clause of the First Amendment prohibits schools from holding graduation ceremonies that endorse religion.
"The practice is unconstitutional because it forces graduating students and their family and friends wishing to participate in the ceremony to enter a church, even if the selected church espouses a religious ideology to which they do not adhere," wrote Grover.
For the 2017 graduation ceremony last spring, the district used the church as a venue again. The contract was amended to require a cross to be on display and for a church leader to give a welcoming remark before each of the high school graduations. After learning about these events, FFRF sent a records request to the district seeking past contracts between the district and the church, along with any contract for events this year.
The district subsequently announced that it has decided to hold this year's graduation at the Allen Event Center, a secular location, rather than returning to the church.
The disgruntled minister of the church, Jack Graham, has been tweeting inaccuracies about the incident, claiming that FFRF is somehow encroaching on religious freedom.
"It appears religious freedom is under attack at the McKinney Public Schools," tweeted Graham. "It was our refusal to remove the cross from view that created this cowardly decision."
FFRF emphasizes that it did not request religious iconography to be concealed during private worship services, but rather that the school temporarily cover iconography in order to keep its 2016 graduation ceremonies secular and then find a more appropriate venue for future events.
"We are pleased that the school has moved its graduation to a secular location rather than attempt to modify a house of worship into a place that appears secular," says FFRF Co-President Annie Laurie Gaylor. "The district's decision to change its tradition to protect its students' rights of conscience is anything but cowardly."
The Freedom From Religion Foundation is a nationwide nonprofit organization with more than 32,000 members, including over 1,300 in Texas. FFRF's purposes are to protect the constitutional separation between state and church, and to educate the public on matters relating to nontheism.