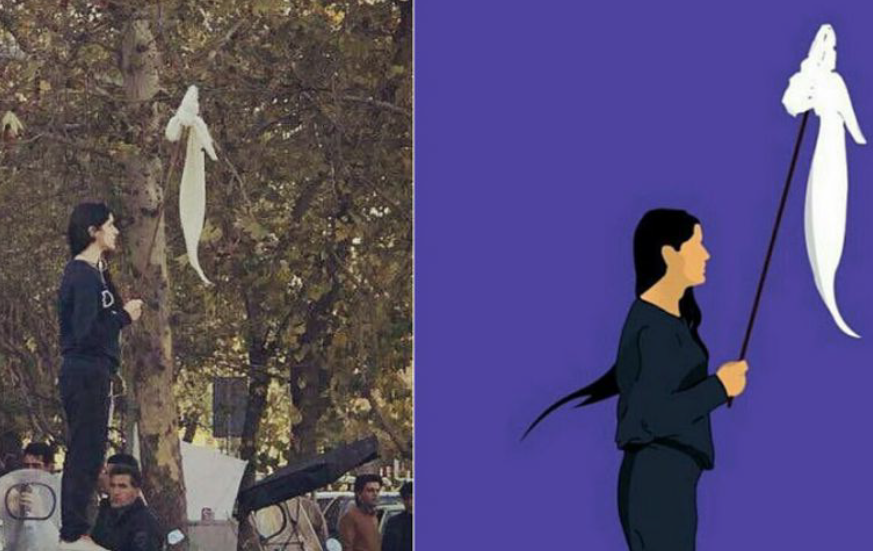 UPDATE on Jan. 29, 2018: Good news, Iranian authorities have since released the protester.
FFRF is pressuring the new U.S. ambassador-at-large for international religious freedom to call for the release of an iconic Iranian protester.
As the protests in Iran gained momentum at the close of 2017, one of the most visible protesters was a woman who took off her hijab in Tehran and stood on a pedestal above the crowd, waving the hijab on a stick to protest compulsory veiling laws.
This woman, possibly named Vida Movahed, is reportedly mother to a 20-month-old child. She has been arrested and disappeared.
FFRF Co-Presidents Annie Laurie Gaylor and Dan Barker are asking newly confirmed ambassador Sam Brownback to defend the woman and demand her release.
"Compulsory veiling laws, which this brave woman was protesting, are a gross violation of women's rights and religious freedom, " says Gaylor. "This is Brownback's first test, and he can't afford to fail."
FFRF has expressed concern with Brownback's appointment, given his history of using public office to promote his personal religion. "The concern is that he might not look out for all the persecuted and oppressed, just persecuted and oppressed Christians," explains Barker.
Now we'll see if Brownback is truly committed to defending all religious dissidents.
For more insight into the Iranian protests, please see FFRF's Jan. 2 interview with Maryam Namazie on "FFRF's Ask An Atheist."