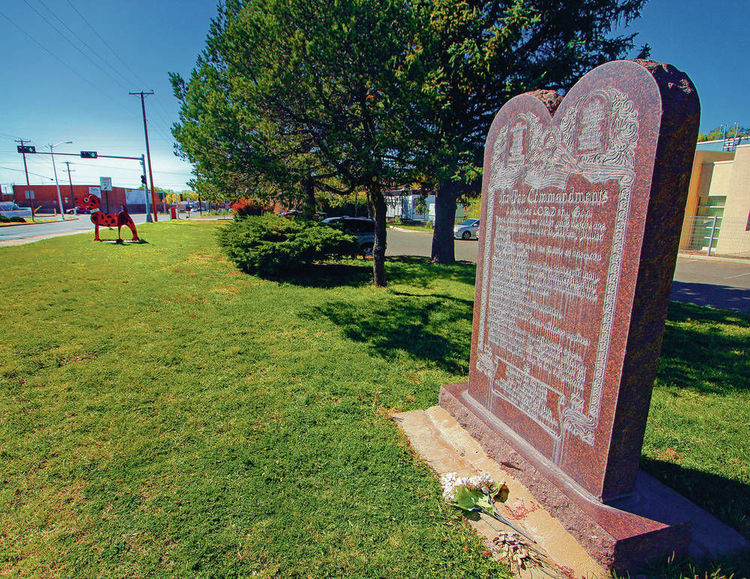 The Freedom From Religion Foundation is calling for the removal of a hulking Ten Commandments monolith from a city park in New Mexico's capital.
A 6-foot-tall stone monument of the biblical Ten Commandments is displayed in Ashbaugh Park, in front of Fire Station No. 3, in Santa Fe. The city recently underwent a review to determine if the marker should remain on city property in light of the 2016 10th U.S. Circuit Court of Appeals' decision, Felix v. City of Bloomfield, which found a similar Ten Commandments monument elsewhere in the state unconstitutional, forcing that city to fork over $700,000 in legal costs.
The government has no business telling citizens which god they must have, how many gods they must have, or that they must have any god at all, FFRF asserts. Both as a matter of sound policy, and to ensure that the city is in compliance with the Constitution, FFRF advises the city to move the monument off of public property. The city should not be in the business of displaying the edicts of any religion, no matter how long the violation has been allowed to occur.
"It is grossly inappropriate to insinuate that the Ten Commandments are associated with the city government in any way," FFRF Co-President Annie Laurie Gaylor writes to Santa Fe City Attorney Kelley Brennan. "Once the government confers endorsement and preference for some religions over others, it strikes a blow at religious liberty, forcing taxpayers of all faiths and of no religion to support a particular expression of worship."
Religious traditions cannot even agree on which are the "true Ten Commandments," FFRF points out, so it is unwise, impermissible and unconstitutional for the city of Santa Fe to weigh in on this matter. The monument embodies an unconstitutional preference for one religion — indeed one denomination of one religion — over others. The particular monument in question, for instance, is consistent with a traditionally Protestant version, excluding not only nonbelievers, but Jews and other Christian denominations as well.
Ten Commandments monuments continue to cause great divisiveness and draw lawsuits across the country. The Bloomfield case is only just the latest successful challenge in the 10th Circuit. This court of appeals similarly found a Ten Commandments monument displayed on a county courthouse lawn unconstitutional just a few years prior in Green v. Haskell (2009). It is worth emphasizing again that these cases can prove very costly for the municipalities affected, such as for the city of Bloomfield.
The Ten Commandments monument in Ashbaugh Park was part of a scheme conceived by Cecil B. DeMille to advertise his overwrought film epic, 1956's "The Ten Commandments," in cahoots with the Eagles — which had a backer interested in a market for Minnesota granite. This monolith in front of a city fire station is "little more than one great big unconstitutional advertisement," Gaylor charges. The simplest solution, as many enlightened governmental bodies have found, is to have the monument removed. FFRF advises: Give it back to the Eagles or a church to display.
The Freedom From Religion Foundation is a national nonprofit organization with more than 30,000 members and 20 chapters across the country, including hundreds of members and a chapter in New Mexico. Its purposes are to protect the constitutional separation between state and church, and to educate the public on matters related to nontheism.