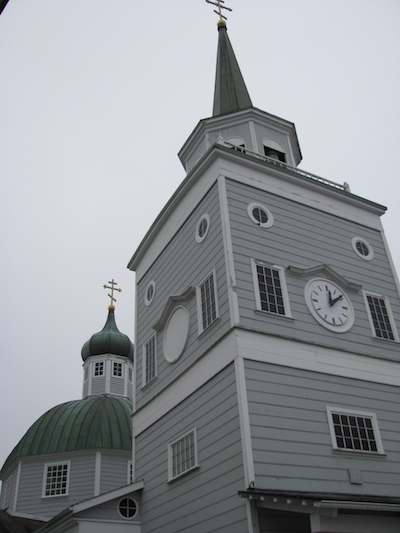 The Freedom From Religion Foundation is insisting that an Alaska city not fund the repairs of a local church.
The Sitka City Assembly will soon vote on allocating $5,000 from the city's Visitor's Enhancement fund to help repair the St. Michael's Cathedral in town. This cathedral has an active religious congregation and a singular mission to win Christian converts.
According to media reports, City Attorney Brian Hanson reviewed concerns that funding this church would violate the First Amendment, but concluded that the grant would be permissible because "the donation 1) is for a secular (public purpose), 2) neither advances nor inhibits religion, and 3) does not result in excessive entanglement of the municipality with religion."
FFRF is correcting this conclusion. Although Hanson correctly identifies the test from the Supreme Court's 1971 case, Lemon vs. Kurtzman, he fails to apply the test correctly. More recent cases have shown that Lemon's second prong (a governmental decision's principal or primary effect must be one that neither advances nor inhibits religion) does not allow grants that support religious activities.
"In Tilton v. Richardson (1971), which was decided the same day as Lemon, the court unanimously struck down a statute that provided grants to colleges for the construction of educational facilities, including facilities to be used 'as a place for religious worship' after 20 years," FFRF Staff Attorney Ryan Jayne writes to Hanson. "More recently, in Community House, Inc. v. City of Boise (2007), the U.S. 9th Circuit Court of Appeals, which has jurisdiction over Alaska, enjoined a city from leasing a homeless shelter to a religious organization for one dollar per year so long as the lessee continued to hold daily chapel services for its residents."
The city of Sitka's contemplated funding of St. Michael's Cathedral advances religion even more plainly than the unconstitutional actions in Tilton v. Richardson and Community House, FFRF contends. Repairing a building that is used for religious worship, and has the sole stated mission of winning converts to a particular religion, supports both that religious worship and that religious mission.
"This a blatant case of a Christian house of worship wanting to live on the public dole," says FFRF Co-President Annie Laurie Gaylor. "Why should non-Christians be forced to subsidize such an institution?"
Even if the city's Visitor Enhancement fund is designed to fund projects that will enhance the visitor experience in Sitka, this goal cannot circumvent the Constitution. Churches receive many benefits due to the separation of state and church, but these benefits come with certain burdens — one of which is that churches cannot rely on the government to maintain their houses of worship. If Sitka residents are concerned about the degradation of an iconic church that is still used as a house of worship, they must raise private funds to finance repairs, as one Assembly member reportedly intends to do, acknowledging that "giving away other people's money is so easy."
The message the city of Sitka would communicate to its citizens if it misguidedly votes to hand out money to St. Michael's Cathedral is that churches will be rewarded if they neglect their duties as landowners and community members and fail to maintain their buildings. FFRF advises the Sitka City Assembly that such funding will needlessly expose the city to legal liability.
The Freedom From Religion Foundation is a national nonprofit organization with 30,000 members across the country, including members in Alaska. FFRF's purposes are to protect the constitutional principle of separation between state and church, and to educate the public on matters relating to nontheism.