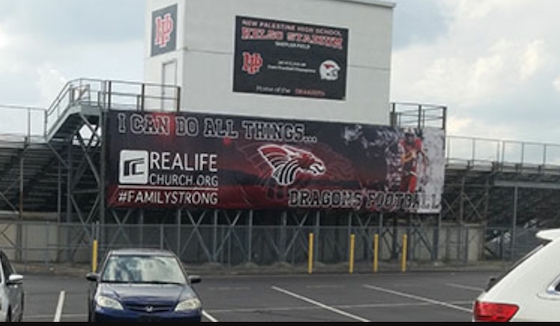 The Freedom From Religion Foundation has had a religious banner removed from an Indiana high school.
Recently, a local community member reported to FFRF that the New Palestine High School football stadium was displaying a sizable religious banner directly across from the entrance to the public school. The banner was decorated with a large image of the football team's logo above the text "DRAGONS FOOTBALL." A substantial portion of the banner included a prominent advertisement for a local church, with the church's logo and website and a New Testament reference: "I CAN DO ALL THINGS..."
FFRF wrote to the district superintendent, Lisa Lantrip, warning that by displaying the banner, the high school endorses its religious message – which is unconstitutional. It is well settled that public schools may not advance, prefer or endorse religion. This, FFRF noted, is precisely what a school does when it promotes a church and the New Testament to its students, parents and school employees.
"New Palestine High School may not decorate its stadium with religious displays or church advertisements," wrote FFRF Staff Attorney Ryan Jayne. "It makes no difference if the church message is paid advertising. Given this banner's size, prominent location, and inclusion of the school logo and name of the school's football team, the banner is plainly attributable to the school and must not include religious messages or promote places of worship."
FFRF requested that the banner be removed immediately. Lantrip sent an email response stating that the banner had been taken down. FFRF is thanking the district for taking action to ensure that its school complied with its First Amendment duties.
"The district did the right thing by taking down a divisive religious message," says FFRF Co-President Annie Laurie Gaylor. "Sporting events should unite the district community, not alienate certain members."
The Freedom From Religion Foundation is a national nonprofit organization with 30,000 members across the country, including more than 450 in Indiana. FFRF's purposes are to protect the constitutional principle of separation between state and church, and to educate the public on matters relating to nontheism.