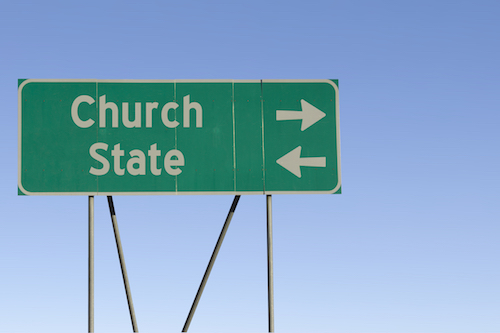 The Freedom From Religion Foundation is asking that an Indiana elementary school cease unconstitutional religious promotion.
A concerned community member reported to FFRF that Fremont Elementary School in Fremont, Ind., is regularly advertising in its newsletter religious activities, including a bible club. The club is hosted at the school during the school day. According to an advertisement for the bible club, the club began meeting on Tuesday, Sept. 12, during recess time. (Only children with signed permission forms are allowed to attend.)
It was also brought to FFRF's attention that the school has handed out and collected registration forms from students for a religious club that meets at Fremont Methodist Church in town.
In a letter sent to the school district, FFRF points out that the Establishment Clause prohibits religious clubs in elementary schools to protect the rights of conscience of impressionable children.
"Elementary students are too young to truly run a club entirely on their own initiative with no input from school staff or outside adults," writes FFRF Legal Fellow Chris Line. "And school employees may not organize a religious club for students," he adds.
It is well settled that public schools may not advance, prefer or promote religion. The club meets during the school day on school property, which would lead a reasonable person to view this as school-stamped Christianity. Schoolchildren, FFRF notes, are already under enough social pressure to conform to their peers. They must be protected from similar pressure from their school and teachers, especially on matters of religious belief.
The solution is a simple one: The school should ensure that it limits the events it promotes and sponsors are directly associated with public education.
"Superstition is the antithesis of education, and public schools must restrain themselves from advocating it in any way or form," says FFRF Co-President Annie Laurie Gaylor.
FFRF asks that Fremont Community Schools investigate the violations immediately and inform district staff that school-sponsored religious activity violates the U.S. Constitution.
The Freedom From Religion Foundation is a national nonprofit organization with roughly 30,000 members across the country, including 450-plus in Indiana. It also has chapters all over the United States. FFRF's purposes are to protect the constitutional principle of separation between state and church, and to educate the public on matters relating to nontheism.