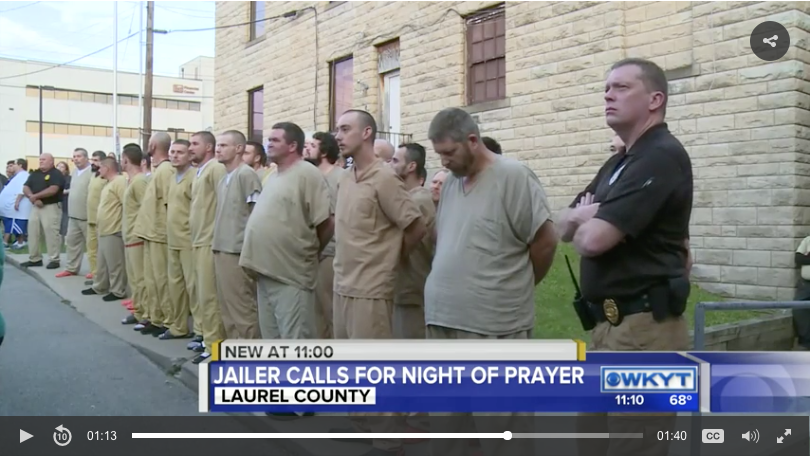 The Freedom From Religion Foundation is shocked over a blatant constitutional violation that occurred at a Kentucky jail.
It was reported to FFRF that in August the Laurel County Correctional Center in London, Ky., held an unconstitutional "Night of Prayer" event to combat drug use. According to news coverage of the event, Laurel County Jailer Jamie Mosley was responsible for organzing the government-sponsored prayer at the jail.
"We are asking every citizen and church in Laurel County to come join us in prayer for our inmates, their families, the victims of their crimes, and our staff," Mosley told local media before the event.
Several local Christian ministers attended the event with members of their churches, as well as other members of the community and jail staff. An estimated 600 people attended – more than the jail's entire incarcerated population. The crowd gathered beneath a large tent that was erected on the grounds for the event and a choir from a local Pentecostal church performed music. Handcuffed inmates were escorted by jail staff to the tent to interact with the crowd. The crowd was then led inside the jail, locking hands and forming a "prayer chain."
"The government cannot legally host a religious event in its facility, promote it in its official capacity, and involve its officials and employees in the event itself," writes FFRF in a legal letter sent to Mosley. "Nor can it use a county jail, in which it literally has a captive audience, to proselytize."
Uniformed jail staff also attended the "Night of Prayer" event. Government employees, FFRF Attorney Andrew L. Seidel notes, may not be present at religious events in their official capacity or in uniform. The title and uniform of Laurel County Correctional Services can not be lent to religious events, which endorses religion.
The "Night of Prayer" is not the first instance of Mosley's religious coercion of inmates. Several reforms seeking to impose Christianity on the captive audience have been instituted at the center. Mosley sought to reduce prison violence by increasing church services for inmates, implemented an explicitly Christian twelve-step recovery program and has claimed that over 500 inmates have been baptized in the Laurel County Correctional Center since he took over as jailer in 2011.
Jails and prisons may offer religious programming to inmates in order to accommodate their beliefs. But these exclusively Christian programs appear to be a deliberate attempt to proselytize inmates and convert them to Christianity.
The power jailers have over inmates carries risk of coercion when personal religion becomes entangled. A prison atmosphere in which Christianity is favored compels inmates to express Christian beliefs in order to gain favorable treatment.
"Proselytizing a literal captive audience of prisoners is repugnant to the individual right to freedom of conscience enshrined in the First Amendment," says FFRF Co-President Dan Barker.
FFRF is asking that Mosley reevaluate the religious programming that the jail offers to inmates, keeping in mind that the resources of the state may not be used to promote a personal religion. Non-Christian and secular alternatives must be made available in order to protect the freedom of conscience of each individual.
The Freedom From Religion Foundation is a nationwide nonprofit organization with more than 29,000 members across the country, including many in Kentucky and a chapter in Louisville. FFRF's purposes are to protect the constitutional principle of separation between state and church, and to educate the public on matters relating to nontheism.