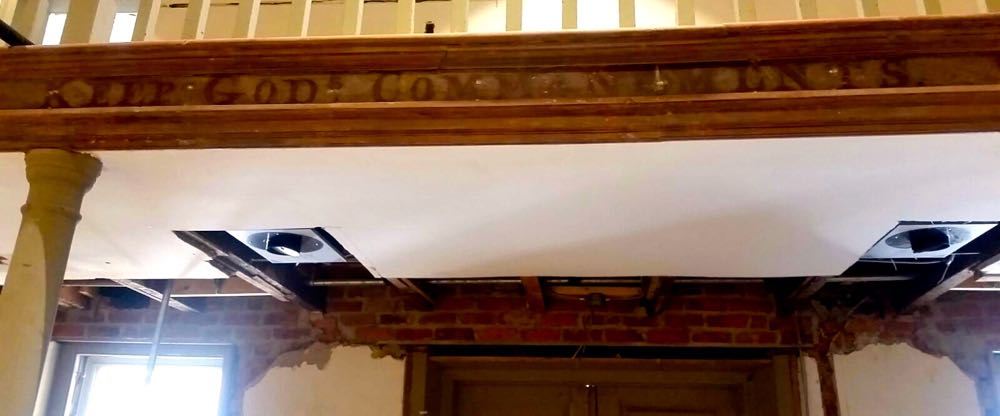 An overtly religious proclamation in a Virginia county courthouse has been covered up following a Freedom From Religion Foundation communiqué.
"Virtus — Keep God's Commandments — Veritas" was recently revealed on the wood structure below the balcony in the Nelson County Circuit Courtroom after being concealed for more than 50 years. The statement would have faced the judge and jury in the courtroom.
It is inappropriate and unconstitutional for the county government to display a message to "Keep God's Commandments," FFRF asserted in a letter to local officials a few months ago.
"The Establishment Clause of the First Amendment prohibits government advancement and endorsement of religious messages," wrote FFRF Staff Attorney Patrick Elliott. "Given the size of the 'Keep God's Commandments' lettering and its prominent placement, a reasonable observer would view it as an endorsement of religion by the county."
The Supreme Court ruled in 2005 that Ten Commandments displays in two Kentucky courthouses violated the U.S. Constitution, FFRF added. While the original "Keep God's Commandments" lettering may date to the early days of the courthouse, that would not absolve the county from taking actions today that violate the Establishment Clause. FFRF noted that the religious wording would also implicate the ability of litigants to receive justice from an impartial jury and judiciary.
Citizens are frequently compelled to come to the Nelson County Courthouse on important matters, FFRF reminded the county. These citizens should not be made to feel offended and excluded because the local government they support with their taxes oversteps its power by prominently displaying religious statements at the seat of government. Almost one-fourth of American adults are nonreligious, including about 35 percent of Millennials.
County officials acted in response to FFRF's missive.
"Months after it first was uncovered as part of a renovation project, the Nelson County Board of Supervisors decided publicly Tuesday to cover temporarily historic lettering with religious connotations inside the Nelson County Circuit Courtroom," reports the local newspaper.
FFRF appreciates the county board proceeding in the right direction.
"It is a good interim solution to what was clearly an unconstitutional situation," says FFRF Co-President Annie Laurie Gaylor. "Next, the supervisors should go ahead and make their move permanent."
The Freedom From Religion Foundation is a national nonprofit organization with more than 29,000 members across the country, including 600-plus in Virginia. Its purpose is to protect the constitutional principle of separation between state and church.