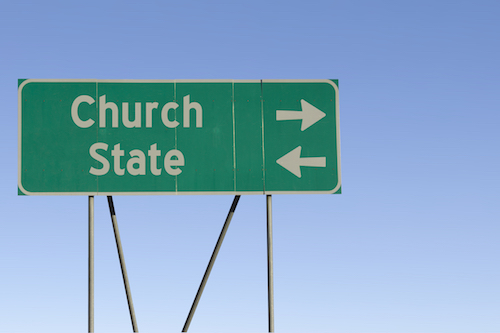 The Freedom From Religion Foundation is requesting a Michigan city to cancel plans to allow organized Christian worship at a city-sponsored event this coming weekend.
A concerned local resident informed FFRF that Menominee's 35th Annual Waterfront Festival schedule includes an "Outdoor Church Service" at 10 a.m. this Sunday, Aug. 6. The event website says the annual festival is "sponsored by the city of Menominee" and lists the contact as "Menominee City Hall." The festival is also advertised on the city's website with a link to the event page.
FFRF reminds Menominee of its constitutional responsibilities.
"It is a fundamental principle of Establishment Clause jurisprudence that the government cannot in any way promote, advance, or otherwise endorse religion," FFRF Managing Staff Attorney Rebecca Markert writes to Menominee City Attorney Robert J. Jamo. "The Supreme Court has said time and again that the First Amendment 'mandates governmental neutrality between religion and religion, and between religion and nonreligion.'"
The city of Menominee has a constitutional obligation to remain neutral toward religion, FFRF informs the city attorney. By explicitly sponsoring the Annual Waterfront Festival, the city implicitly sponsors each event that occurs at the festival, including the church service. Such sponsorship alienates Menominee residents whose religious beliefs are inconsistent with the message being promoted by the church service, including the 23 percent of American adults — and 35 percent of Millennials — who are nonreligious.
"What about the non-Christian residents of Menominee at the festival?" asks FFRF Co-President Annie Laurie Gaylor. "It'll be more than a tad exclusionary for those folks to endure a Christian ceremony that they won't be a part of at a city-sponsored gala."
FFRF wants the city of Menominee to refrain from scheduling, advertising or otherwise sponsoring a church service at this year's festival and in the future.
The Freedom From Religion Foundation is a national nonprofit organization with more than 29,000 members and chapters across the country, including almost 700 and a chapter in Michigan. Its purpose is to protect the constitutional principle of separation between state and church.