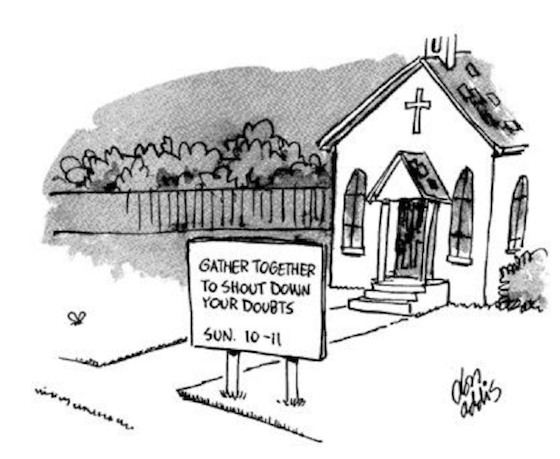 The Freedom From Religion Foundation is appalled that the Trump administration holds weekly bible study sessions at the White House.
The list of attendees reportedly contains the names of several officials whose appointments FFRF objected to because of their inability to keep their personal religion separate from their public office. These include Education Secretary Betsy DeVos, Attorney General Jeff Sessions, CIA Director Mike Pompeo and Energy Secretary Rick Perry. Vice President Mike Pence sponsors the club.
Each week, these pious politicians spend their time — your time, dear taxpayer — perusing a book that condones child sacrifice, slavery, misogyny and the subjugation of women, genocide, and eternal torture for those who believe differently. If ever there were a book that government officials ought not to follow, it's the bible.
The bible study is led by an outsider, Ralph Drollinger. He formed Capitol Ministries with the mission to "birth ongoing outposts for Christ." Drollinger's access to high-level officials with what he calls his "para-church ministry" is disturbing, especially when his draconian views are examined:
He said, quoting from the bible that he teaches to the Trump cabinet, "Homosexual is a sin. It is an abomination in the eyes of God."
Mothers who work outside the home are sinners: "Women with children at home who either serve in public office, or are employed on the outside, pursue a path that contradicts God's revealed design for them. It is a sin."
Last year, he attacked social welfare programs as unbiblical, un-Christian, and based on "the bad theology of theological liberalism."
He weighs in on what makes a good judge: "Every elected official is to make sure the nation has an excellent judiciary system, especially God-fearing righteous judges (ones who, I might add, support the laws of the land — not make them up!)." He also adds that "rather than make up rights for the unrighteous, judges should defend the rights of the less fortunate: for example, voiceless, yet-to-be born human beings!"
He's argued, "America has been in the process of changing horses: from the religion of Christianity to one of radical environmentalism. We are in the process of exchanging the worship of the Creator for the worship of His creation."
On global climate change, which is also a state-church issue because of apocalyptical ideas like this, he has argued that even thinking about it is a problem: "To think that man can alter the earth's ecosystem — when God remains omniscient, omnipresent and omnipotent in the current affairs of mankind — is to more than subtly espouse an ultra-hubristic, secular worldview relative to the supremacy and importance of man."
That Drollinger has unfettered access to the highest levels of our government is scary and raises serious state-church concerns. For instance, all these messages have a direct impact on public policy, including on LGBTQ rights, women's rights, the social safety net, the right to choose, environmental issues, and global climate change. This access and ability to affect policy might run afoul of lobbying regulations, something FFRF attorneys are investigating.
He's also fond of attacking other religions, not just Islam and Judaism but even his brothers and sisters in Christ. With a straight face, he called Catholicism "the world's largest false religion." (Paging Bill Donohue.) In addition, he has said that liberal Christian theology is "tantamount to calling Jesus a liar." He summed this up in a July 2017 bible study, "God only hears the prayers of leaders and citizens who are upright, who live righteously through faith in Jesus Christ."
Drollinger's website also has a hypocritical note that lacks all self-awareness:
Privacy Notice: Please note that it is the strict policy of Capitol Ministries not to comment on any public servant who is involved with our organization. We protect the privacy of all who attend our bible studies.
So Drollinger gets access to public officials in a government building — a government supposedly built on transparency — but refuses to discuss which officials join in. If those officials want privacy, the solution is pretty damn simple: Study the bible in your private capacity, not in your official capacity and at your government desk. Do it on your on time, not the taxpayers'. In short, get off your knees and get to work.
FFRF will be taking a deeper look at this bible study. Stay tuned.