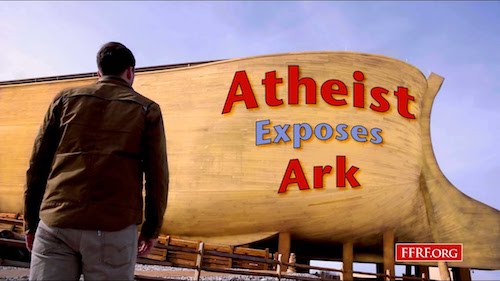 The Freedom From Religion Foundation is condemning a questionable sale of the creationist Kentucky ark park and is calling upon the state to rescind its sales tax subsidies.
The Ark Encounter — the Noah's Ark-themed park that creationist Ken Ham operates — reportedly sold its main $48 million parcel and Ark attraction on June 28 for $10 to Crosswater Canyon, a nonprofit ministry. The Kentucky Tourism Development Finance Authority had previously approved the theme park for sales tax rebates. The sale seems to be a maneuver by the operators of the Ark to avoid paying state and local property taxes. Ark managers appear to have made the move as retaliation against the city of Williamstown for adopting a 50 cents safety fee on ticket sales that would fund emergency services.
Given the significant public subsidies that have gone to this attraction, it is alarming that Ark executives are playing games with the ownership of the property. The change in ownership does not allow for continued sales tax rebates without new authorization from Kentucky governmental entities, FFRF contends.
While Ark Encounter is an approved company, FFRF has found no evidence that the Kentucky Tourism Development Finance Authority approved Crosswater Canyon. Kentucky law explicitly limits the transfer of tax rebates to a new company without the approval of the Authority.
"We are unaware of any notice provided to the Authority and any resolution that the Authority has passed approving of payments to the new owner of the Ark," FFRF Senior Counsel Patrick Elliott writes to Kentucky Tourism, Arts and Heritage Secretary Don Parkinson. "The agendas from recent Authority meetings do not include a discussion of the Ark Encounter."
If such a request does come before the Kentucky Tourism Development Finance Authority, the transfer should be denied because the change in ownership is detrimental to the Commonwealth of Kentucky, FFRF asserts. Selling the attraction for a nominal amount to avoid taxes that are owed to the state and local community is not a bona fide justification that the Authority should accept.
"It is highly immoral for an entity supposedly founded on morality to engage in behavior like this," says FFRF Co-President Dan Barker. "But perhaps the fire sale of $10 reflects the true worth of the park."
FFRF is requesting that the Kentucky Tourism Development Finance Authority take immediate action to suspend the availability of tax rebates to the operators of the Ark and to terminate any applicable agreements it has with the Ark Encounter.
The Freedom From Religion Foundation is a national nonprofit organization with more than 29,000 members and chapters across the country, including members in Kentucky and an FFRF Kentucky chapter. Its purpose is to protect the constitutional principle of separation between state and church and to educate the public on matters relating to nontheism.