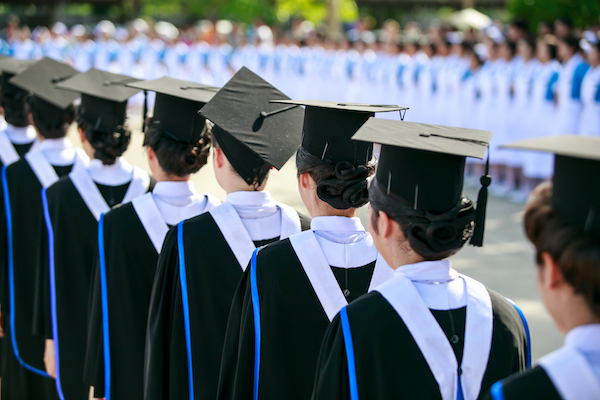 The Freedom From Religion Foundation has urged two public schools in North Carolina to keep their graduation ceremonies secular.
After a high school in Raleigh and an elementary school in Moravian Falls had scheduled religion into their graduation functions, FFRF Staff Attorney Patrick Elliott wrote to two North Carolina school districts. Elliott cautioned the districts that courts have ruled public school graduation activities must not contain religion.
Athens Drive Magnet High School, part of the Wake County Public School System, scheduled a baccalaureate service immediately prior to its graduate reception on June 5. Last month, the school's principal and a teacher put out a request for representatives of various faiths to attend the service.
FFRF wrote to the district asking that the school system investigate and end all involvement with the baccalaureate.
"It does not matter if the school-sponsored service is optional, or if students are told they need not participate, attend or stay for the entire program," wrote Elliott. "A public high school cannot organize and sponsor these religious services."
FFRF was also made aware of a graduation ceremony at Moravian Falls Elementary School in Wilkes County Schools that had scheduled the ceremony to take place at a local Baptist church on June 1. During past ceremonies, which had also taken place at the church, there had been religious messages and iconography throughout the venue.
In FFRF's letter to Superintendent Mark Byrd, Elliott requested that the school district select a more appropriate, secular location. The school system verbally agreed not to host the elementary school ceremony in churches going forward.
"School graduations are the culmination of years of secular education, and should celebrate the student, not religion" says FFRF Co-President Annie Laurie Gaylor. "The schools have a duty to equally honor all students who are graduating, religious and nonreligious."
The Freedom From Religion Foundation is a national nonprofit organization with more than 29,000 members and chapters across the country, including over 600 members and the Triangle Freethought Society in North Carolina. Its purpose is to protect the constitutional principle of separation between state and church.
Photo by Biaphoo