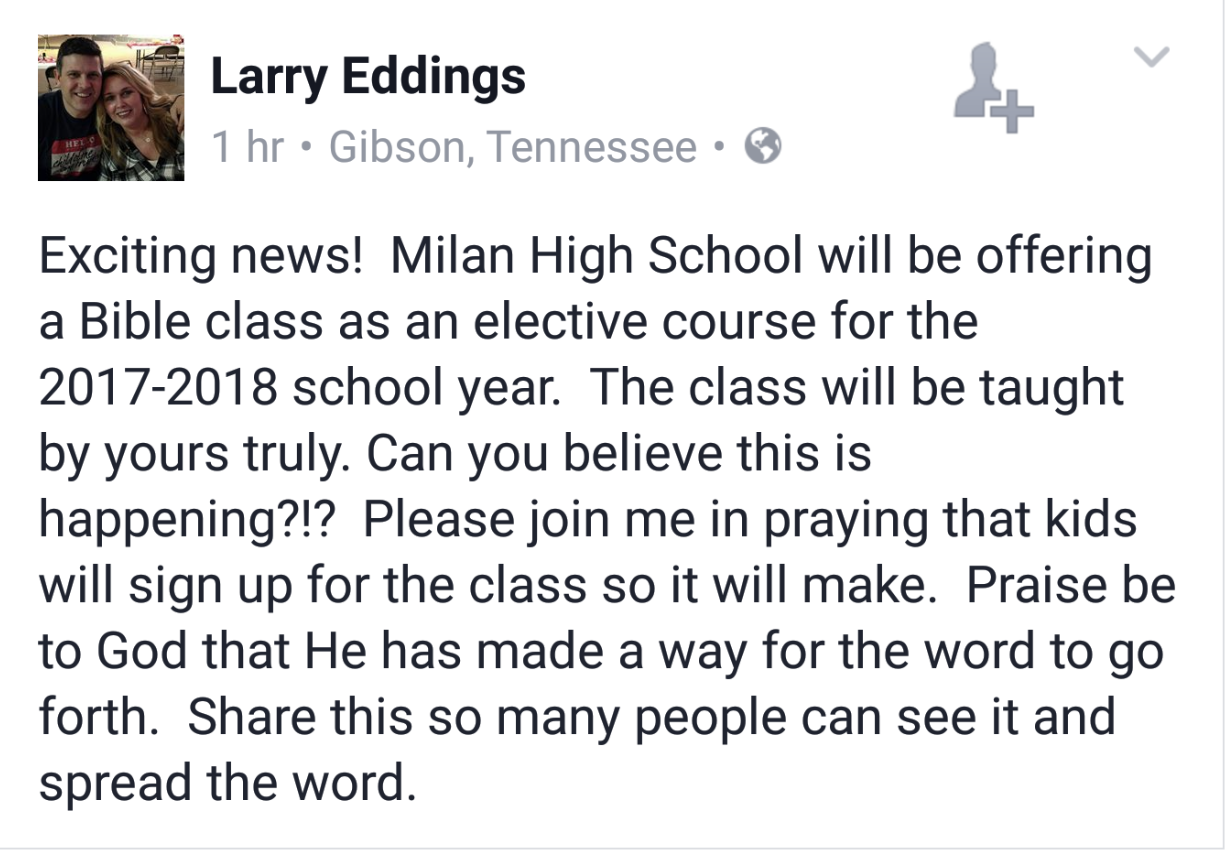 The Freedom From Religion Foundation is urging a Tennessee school district to curtail the evangelizing activities of a high school math teacher.
Several concerned local citizens have informed FFRF that in mid-March, Milan High School math teacher and coach Larry Eddings announced on social media that he will be teaching an elective bible class during the 2017–2018 school year. The post has since been removed, but it stated, in part:
Exciting news! Milan High School will be offering a Bible class as an elective course for the 2017–2018 school year. The class will be taught by yours truly. ... Praise be to God that He has made a way for the word to go forth. Share this so many people can see it and spread the word. (emphasis added).
Although it is legally permissible for a high school curriculum to include academic — not devotional — studies of religious texts under certain limited circumstances, neither the teacher nor the curriculum itself may endorse the text's religious message, or religion in general. Eddings' description of the upcoming class as a way for "God" to "ma[k]e a way for the word to go forth" unambiguously shows his intent to promote the religious aspects of the bible and his hope to indoctrinate young students. As a math teacher, Eddings also lacks the expertise for teaching a history or literature class.
"Public schools may not provide religious instruction," FFRF Legal Fellow Ryan Jayne writes to Milan Special School District Director of Schools Jonathan Criswell. "In the seminal Supreme Court case on this issue, McCollum v. Board of Education (1948), the court held that that bible classes in public school were unconstitutional. Other federal courts have ruled that similar courses are unconstitutional."
While investigating this complaint, FFRF discovered further instances of Eddings using his position as a school district employee to promote his personal religion. He appears to organize, promote and participate in the high school's Fellowship of Christian Athletes (FCA) club. For instance, in a video posted to social media on March 1, Eddings promoted a Fellowship event, "Courts of Faith." He states: "We come in this gym and we pray. ... There's 20 to 25 minutes of just asking God to move in Milan, at the high school." Eddings also promoted the event in a separate post on Feb. 28, stating: "We are not really sure what the Holy Spirit is going to do and we are OK with that. We have just positioned ourselves to receive His best." This promotion includes an image of adults participating in a student prayer event.
Eddings has also traveled in order to proselytize (in his words, "pour into") students in other school districts. On March 29–30, he stated that he was "fixing to head into Brentwood High School and pour into over 200 kids that show up for FCA! ... Come on Holy Spirit – manifest yourself!!!" In another picture where he is with seven students, he states, "Got to pour into these young people at Brentwood High School today about disciple-making! What a blessing!"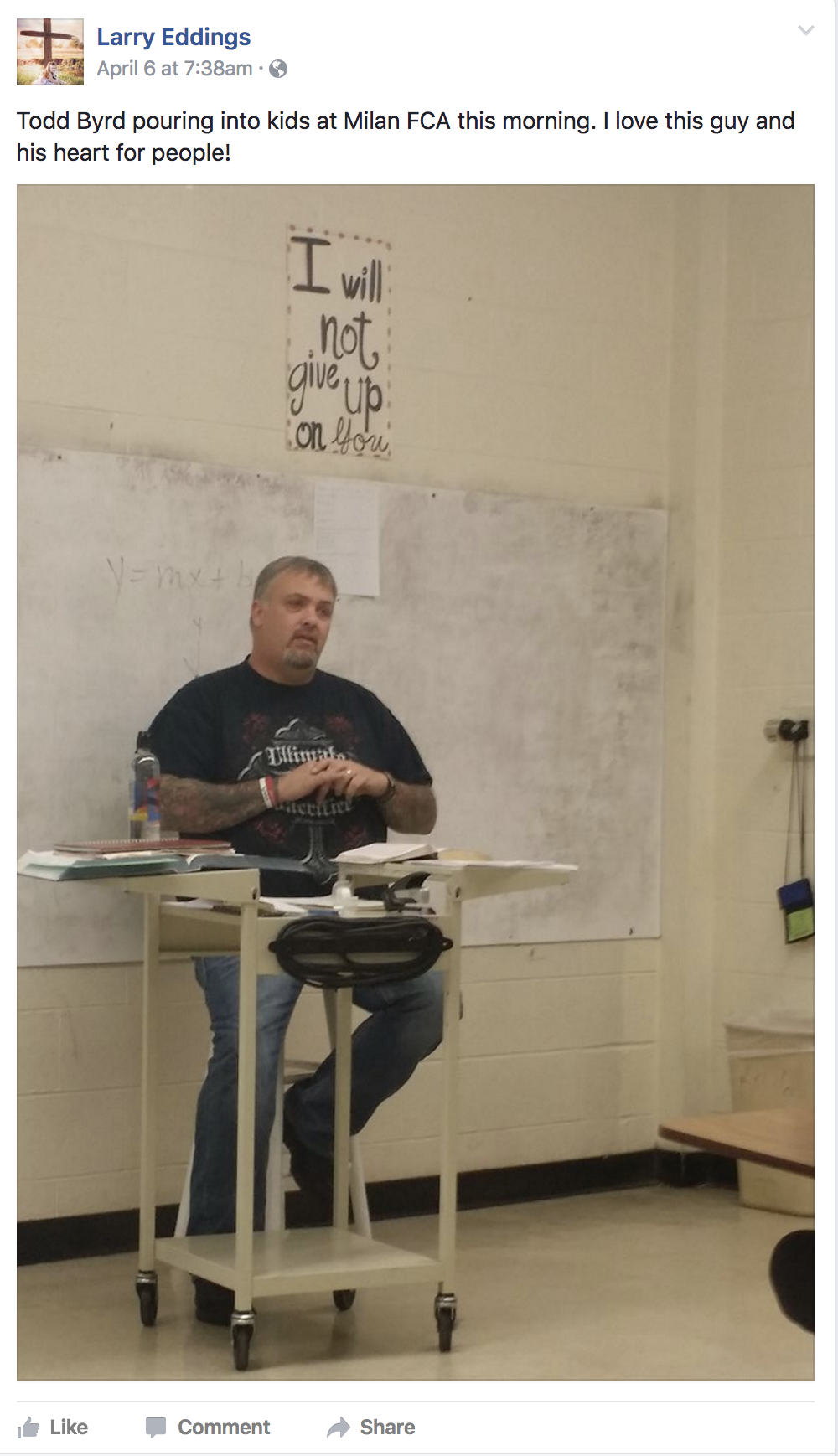 On April 6, Eddings posted a picture with a description, "Todd Byrd pouring into kids at Milan FCA this morning." Byrd is an adult preacher who regularly appears in religious videos with Eddings promoting religion.
Although Eddings' religious social media posts are on his private Facebook account, they are often so intertwined with his position as a Milan High School teacher that students would understand Eddings to have made them as a district employee.
Finally, Milan High Fellowship of Christian Athletes posted images of a "See You At The Pole" prayer event earlier this school year. The images show Eddings and other adults participating in the religious event with students just outside the school.
"It is unconstitutional for public school employees to participate in the religious activities of their students," Jayne writes. "Government employees must refrain from actively participating in religious activities while acting within their governmental role to avoid any perception of government endorsement of religion and/or excessive entanglement with religion."
Furthermore, when district staff plan, promote, or participate in Christian prayer events like See You At The Pole, they alienate non-Christian students, teachers, and parents whose religious beliefs are inconsistent with the message being promoted by the school staff.
FFRF requests assurances that the district will investigate and correct each of the above complaints. Eddings apparently views his teaching position as an opportunity to convert students to his personal religion, Christianity, a serious violation of the Establishment Clause of the First Amendment to the U.S. Constitution. He must not organize, promote, or participate in student religious clubs or activities; Milan High School should not offer a bible class to students, especially one taught by Eddings.
FFRF takes these complaints very seriously. In addition to successfully stopping a Tennessee bible class in court in 2002, it is currently challenging a West Virginia bible class in federal court. If Milan High School includes a bible class this fall, regardless of the instructor, FFRF will request copies of the full curriculum and will take appropriate action if the class promotes religion in any way.
"The school district must do the right thing by curbing the proselytizing tendencies of Mr. Eddings," says FFRF Co-President Annie Laurie Gaylor. "We would also like to see a clear memo on the law go out to district staff and teachers."
The Freedom From Religion Foundation is a national nonprofit organization with more than 28,000 nonreligious members and chapters across the country, including 350-plus and a chapter in Tennessee.