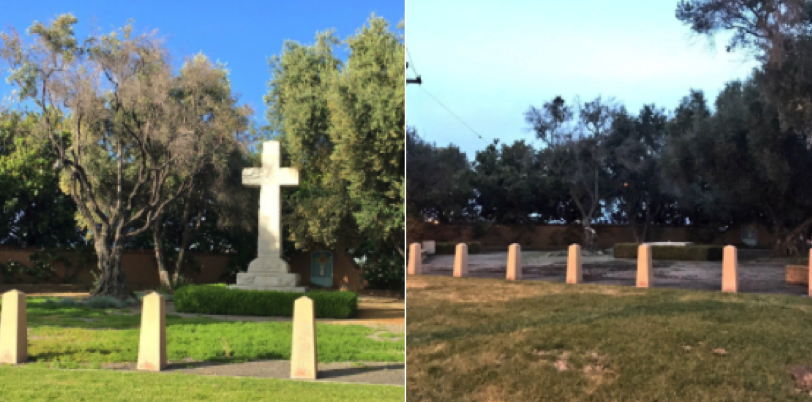 The Freedom From Religion Foundation's lawsuit removing a 14-foot granite cross in a California public park has been formally settled this week.
FFRF and a local member sued the city of Santa Clara in April 2016, after FFRF had attempted for four years to persuade the city to remove the cross from Memorial Cross Park without litigation.
As part of the settlement, the city in January removed and donated the cross to the Catholic Santa Clara University.
The Santa Clara Lion's Club had contributed the cross to the city in 1953 for the decidedly nonsecular purpose of marking the site of the second Spanish Catholic mission, which had been established in 1777.
"We're pleased that the city divested itself of this religious symbol, and that the Constitution is now being complied with," says FFRF Managing Staff Attorney Rebecca Markert, who was co-counsel on the case.
Local officials acknowledged the correctness of FFRF's position.
"Some people feel like we've caved in or succumbed to the arguments of a relatively small number of people, but as I said, they [FFRF] do have a number of legal precedents on their side," councilmember Teresa O'Neill told NBC reporter Ian Cull.
Markert and other FFRF staff had written or phoned the city on more than a dozen occasions since first contacting the city over the Establishment Clause violation in April 2012. The city had indicated in 2012 that it looked forward "to resolving this matter in an expeditious and responsible manner," but dragged its feet.
"This sends a strong message of support of the wall of separation between religion and government," says FFRF Co-President Annie Laurie Gaylor. "Reason and the Constitution have prevailed."
FFRF v. City of Santa Clara was litigated on behalf of FFRF by David J.P. Kaloyanides, with FFRF Legal Fellow Madeline Ziegler also serving as co-counsel. The case, No. 5:16-cv-02072, was before Judge Lucy H. Koh. Final settlement papers have been signed. The city of Santa Clara has agreed to pay attorney fees of $6,500, of which FFRF will recover legal costs.
The Freedom From Religion Foundation is a national state/church watchdog organization that has 27,000 members and chapters all over the country, including almost 3,500 and a Sacramento chapter in California.