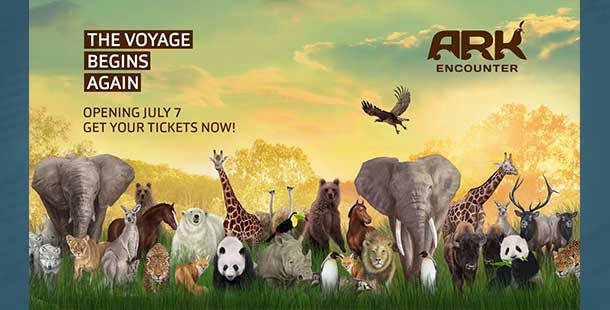 The Freedom From Religion Foundation has successfully dissuaded a Virginia city's Parks and Recreation Department from a trip to the infamous "Ark Park" and a creationist museum.
A concerned local resident informed FFRF that the Christiansburg Parks and Recreation Department was arranging a visit in early April to the Ark Encounter and the Creation Museum in Kentucky. The excursion was advertised on the city website.
FFRF urged the city to refrain from organizing an outing to such overtly religious sites.
The Ark Encounter is a proudly Christian ministry run by the creationist Ken Ham, who also built the Creation Museum. Ham has been open about the proselytizing nature of his projects right since the beginning.
"We are eagerly approaching what I believe will be a historic moment in Christendom," he stated in a 2016 letter outlining his motive. "It's the opening of the one of the greatest Christian outreaches of our era: the life-size Noah's Ark in Northern Kentucky. ... The [Creation] Museum and the Ark direct people to the Word of God and the gospel of Jesus Christ."
FFRF said that this reveals why it is so problematic for government entities to coordinate outings to the Ark Encounter and the Creation Museum.
"Advertising and organizing a trip to a Christian ministry constitutes government endorsement of religion and alienates those Christiansburg residents who are not Christian and are nonreligious," FFRF Staff Attorney Andrew Seidel wrote to Brad Epperley, director of the Christiansburg Parks and Recreation Department. "It is a fundamental principle of Establishment Clause jurisprudence that the government can in no way advance, promote or otherwise endorse religion. Advertising and organizing such an event sends a message that residents are expected to endorse such events."
FFRF's powers of persuasion proved to be very effective.
"Please be advised that the trip has been cancelled and will be removed from the town of Christiansburg's website," the city's legal counsel responded within a couple of days.
FFRF is pleased that the city took the appropriate response.
"The Ark Encounter and Creation Museum are Christian-themed hoaxes that no one should fall for, let alone a governmental body," says FFRF Co-President Annie Laurie Gaylor. "We're glad that we were able to open the eyes of Christiansburg officials."
The Freedom From Religion Foundation is a national nonprofit dedicated to the separation of state and church, with 27,000 nontheistic members, including more than 200 in Kentucky. When the Ark Encounter opened last summer, FFRF sent a letter to every school board in Kentucky, Tennessee, West Virginia, Indiana and Ohio explaining that the First Amendment prohibits public schools from taking students there.