The Freedom From Religion Foundation is taking its national billboard message of state/church separation to Rhode Island for the first time.
FFRF's "Keep Religion Out of Politics" message is now up on a 14x48-foot billboard off Interstate 295 at Route 2 in Warwick. The estimated average daily traffic count is about 270,00.
FFRF, a state/church watchdog based in Madison, Wis., with more than 17,000 members, placed its first billboard in Madison in 2007. Since then, it's placed 695 billboards in 61 cities. The Ocean State is the 34th U.S. state to host an FFRF billboard.
Annie Laurie Gaylor, Foundation co-president, said it's fitting that the campaign has expanded to Rhode Island, which was founded by Roger Williams, a strong advocate of keeping religion out of government and vice versa.
"Although Williams was a religious man, he believed deeply that civil and sectarian authorities should not intrude on each other, for the good of both," Gaylor said.
She noted Williams' famous statement that "forced worship stinks in the nostrils of God."
FFRF is extremely concerned about the rise of religiosity in government, from public schools and municipalities all the way to the federal level, said Gaylor, adding that too many court decisions have resulted in erosions of the constitutional wall of separation.
"Witness the current GOP presidential primary campaign, where the candidates are practically crawling on top of one another to see who can pander to the most extreme religious views," she said.
"You can call this billboard our 'theocracy alert,' " said FFRF Co-President Dan Barker. "It's an election year, and we should all be aware that the theocrats, like rust, never sleep."
FFRF has also been involved in helping a high school student, Jessica Ahlquist, in her fight to get a religious banner permanently removed from Cranston West High School, which is in the vicinity. The case is in federal court now. Jessica received FFRF's Thomas Jefferson Youth Activist Award, a $1,000 scholarship, at FFRF's 34th annual convention in October in Hartford, Conn.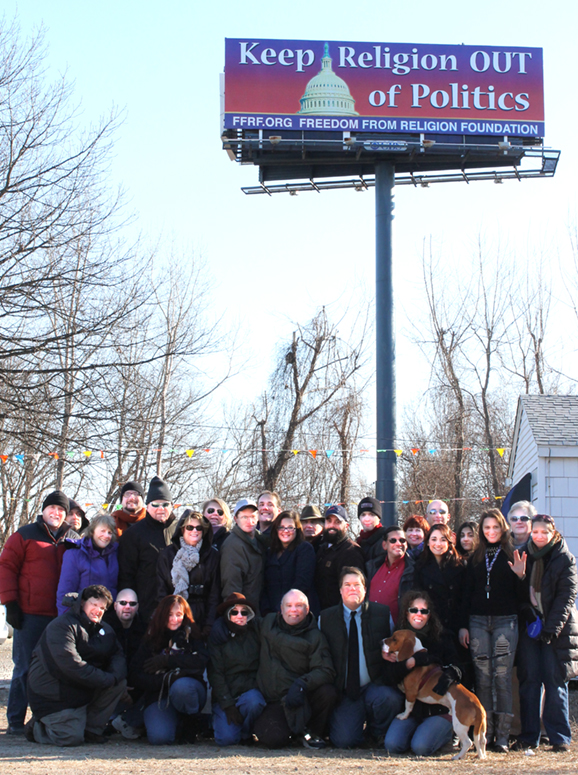 Among those who gathered were Jessica Ahlquist, Cranston, R.I. litigant, and Debbie Wesiman Claise, who won the 1992 Lee v. Weisman decision by the Supreme Court as a Rhode Island high schooler, stopping prayers at high schools.