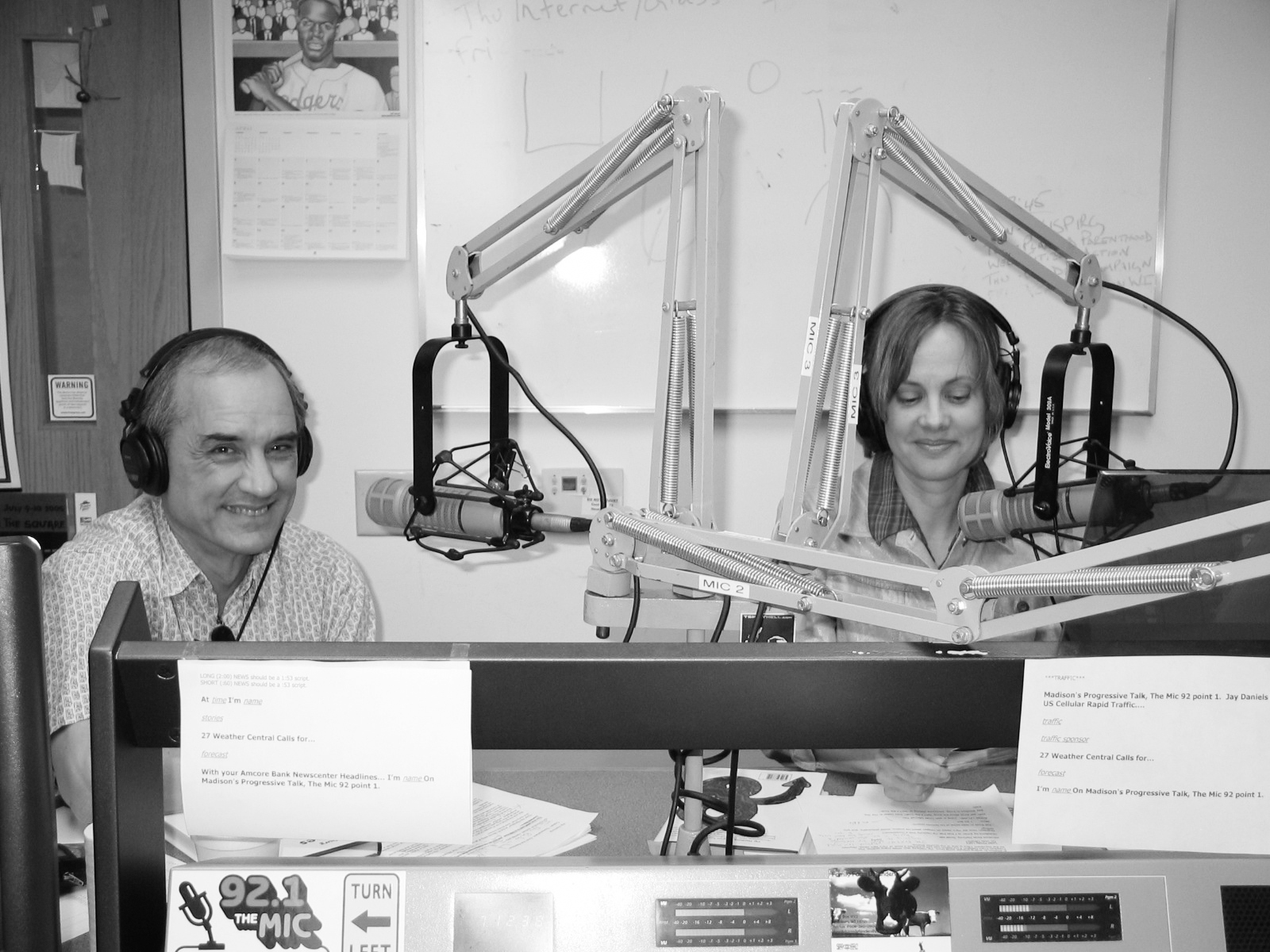 The Freedom From Religion Foundation's radio show has been unceremoniously yanked off the air locally.
FFRF received belated notice this morning that the broadcast of its decade-long radio program, Freethought Radio, has been canceled by the Madison, Wis., radio station formerly known as "Progressive Talk" The Mic 92.1.
The news wasn't a complete surprise, says Annie Laurie Gaylor, who hosts the lively program with her husband, Dan Barker. The couple are co-presidents of the Madison-based state/church watchdog and freethought advocacy group.
"We opened up the Wisconsin State Journal the morning after the election to read the remarkable announcement that progressive talk had been banished forthwith on 92.1 FM and replaced with around-the-clock Christmas music!" says Gaylor. "It's not exactly the appropriate vehicle for Freethought Radio now."
Freethought Radio, which specializes in "irreverent views, music, news and interviews," will not go off the air. It broadcasts in Janesville, Wis., on Community Radio 103.5 FM WADR, as well as in cities in Michigan, Missouri, New York, New Hampshire, Vermont, Texas and Alberta, Canada. (See details here.) The podcast additionally reaches tens of thousands every week, as well. For several years when it was associated with Air America, FFRF's radio show aired in more than 35 listener areas, including several major markets, such as New York City.
Since the past year, the show has been produced in-house in the Stephen Uhl Friendly Atheist Studio, part of FFRF's newly expanded Freethought Hall office building in downtown Madison.
Unfortunately, 92.1 FM did not give FFRF the courtesy of officially notifying it in time to change the credits in this week's show, which was prerecorded Thursday. So, please ignore the opening reference reporting that Freethought Radio originally broadcasts this Saturday from "Progressive Talk."
Area listeners — or anyone — can now listen via podcast, which has gone up today instead of waiting until the usual Monday schedule. This week's show talks about the elections as it relates to the direction of the Supreme Court, plays a defiant version of Woody Guthrie's "This Land Is Your Land" by Sharon Jones, reports recent FFRF legal victories, and includes an interview with a former nun who is now a none (as in no religion) and has a new book about the experience.
Barker says FFRF is looking into other Madison broadcast options.
"We're looking at this as an opportunity rather than a disruption," he says. "Stay tuned."