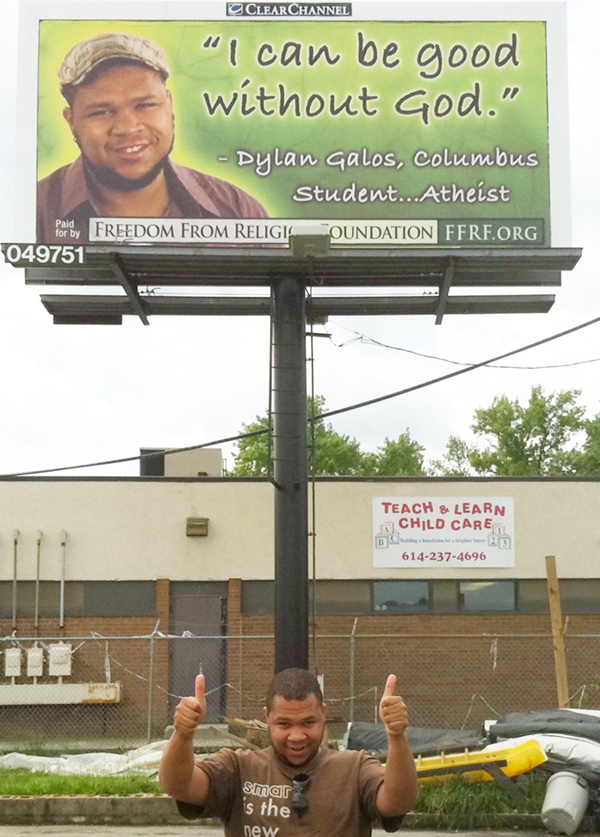 Dylan Galos gives thumbs up to his billboard after it was posted in a second location, following censorship by a church. FFRF just got news that the billboard was removed again by Clear Channel Outdoor Co. following a complaint by a business owner.
The billboard featuring a cheerful student saying "I can be good without God," which was removed from its original posting after the protests of a local church in Columbus, Ohio, was removed again this week after a business owner complained.
The billboard features Dylan Galos, a Columbus student and atheist who just earned his master's, and will be enrolling in a Ph.D. program at the University of Minnesota in the fall.
Dylan's billboard message is one of seven different billboards featuring local nonbelievers and their views which the Freedom From Religion Foundation is sponsoring for a month in Columbus, Ohio, as part of FFRF's "Out of the Closet" campaign.
The "Out of the Closet" billboards use real nonbelievers and their personal statements of nonbelief.
The billboard was apparently removed on Tuesday, July 5, but FFRF did not receive indirect notification until this afternoon. FFRF has been promised the billboard will be relocated soon and that FFRF's contract for 28 days will be honored for Dylan Galos' billboard.
"As we pointed out at the end of June, when the church censored our billboard placement, this kind of intolerant reaction shows why our campaign is so important," said FFRF Co-President Annie Laurie Gaylor.
"Our 'Out of the Closet/Friendly Neighborhood Atheist/Agnostic' campaign is intended to counter negative stereotypes of nonbelievers, and these reactions reflect the lack of social acceptance toward the 45 million Americans who are nonreligious," Gaylor said.
"It's revealing that Dylan's statement, 'I can be good without God,' has provoked this kind of prejudice," added Dan Barker, a former evangelical minister who co-directs FFRF and is author of The Good Atheist.
"Probably the number-one myth we need to dispel about atheism is that people can't be good without supernatural beliefs, rewards and punishments, that people who don't believe in a god are incapable of morality. Nonbelievers know that it isn't what you believe, but how you act, that makes you an ethical or unethical person."
The Freedom From Religion Foundation, a state/church watchdog based in Madison, Wis., is the nation's largest association of atheists and agnostics with more than 16,500 members, and about 450 members in Ohio.
Columbus is FFRF's fourth stop on a national campaign to introduce local nonbelievers to their neighbors. FFRF debuted the "Out of the Closet" campaign in Madison last fall. FFRF took the campaign to the bible belt in the spring: Raleigh, N.C., in April and to Tulsa, Okla., in May.
See all the billboards and read original press release, "Local nontheists come 'Come out of the Closet' in Columbus campaign