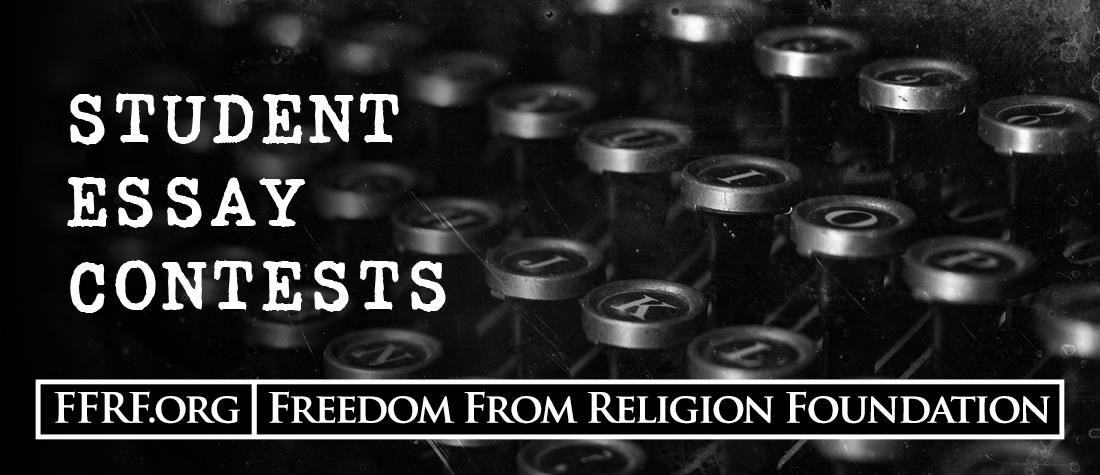 The Freedom From Religion Foundation is proud to announce the 2016 Brian Bolton Graduate/Older Student Essay Contest winners.
The list of awardees has seven top places and four honorable mentions. Students were asked to write 600 to 800 words on the topic of "Why God and politics/government are a dangerous mix." FFRF has offered essay competitions to college students since 1979, high school students since 1994 and graduate students since 2010.
The winners of the competition are listed below and include the award amount, age and college or university they are attending. Students who are a member of a secular student group received $100 bonuses.
FIRST PLACE
Stephanie Wise, 26, Oregon State University ($3,000)
SECOND PLACE
Charlotte Ljustina, 23, Columbia University ($2,000)
THIRD PLACE
Ashley Peralta, 22, University of Colorado ($1,000)
FOURTH PLACE
Landon Poe, 22, University of Cambridge Wolfson College ($750)
FIFTH PLACE
Garrett Pekarek, 27, Missouri Southern State University ($500)
SIXTH PLACE (TIE)
Regina Riem, 25, Herkimer County Community College ($400)
SIXTH PLACE (TIE)
Arielle Neal, 28, Tennessee State University ($400)
HONORABLE MENTIONS ($200 EACH)
Kurt A. Escobar, 29, University of New Mexico
Ryan Collins, 23, University of North Texas
Phillip Gauronskas, 27, Eastern Virginia Medical School
Jason Schloss, 25, Long Island University-Post
The graduate student college contest is named for Brian Bolton, a Lifetime Member who is a retired psychologist, humanist minister and professor emeritus at the University of Arkansas. FFRF also thanks Dean and Dorea Schramm of Florida for providing the $100 bonus to students who are members of a secular student club or the Secular Student Alliance. The total of $9,050 reflects bonuses.
FFRF congratulates the 11 graduate/older college students who won this year's essay competition and wishes them all the best in their future endeavors.