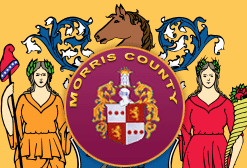 The Freedom From Religion Foundation has asked a judge to declare a New Jersey county's millions of dollars in grants for church repair a violation of the state constitution.
FFRF and member David Steketee recently submitted their final brief in support of their motion for summary judgment in a lawsuit filed on Dec. 1, 2015. The suit seeks to protect the rights of New Jersey citizens to not be compelled to support religions with which they disagree.
Steketee, a taxpayer in Morris County, and FFRF are contesting grants to churches by the county's Historic Preservation Trust Fund. Since 2012, the board has awarded more than $4.6 million to such entities, which is more than 40 percent of the money disbursed by the fund.
FFRF's case relies on the religious aid prohibition in New Jersey's Constitution, which states that "No person shall . . . be obliged to pay tithes, taxes, or other rates for building or repairing any church or churches, place or places of worship, or for the maintenance of any minister or ministry, contrary to what he believes to be right or has deliberately and voluntarily engaged to perform."
FFRF's brief points out that the New Jersey Constitution prohibits the government from spending taxes to "repair any churches," and cites cases where the New Jersey Supreme Court and Appellate Court have enforced this provision, even under circumstances that are less clear. Morris County told the court that it didn't spend tax dollars to "repair" churches, but only to "stabilize, rehabilitate, restore, and preserve" them. "Constitutional obligations cannot be escaped with synonyms," FFRF answered. In addition, the county itself used the word "repair" to describe the challenged grants.
Morris County also argues that denying churches access to taxpayer funds would violate the churches' rights, but FFRF explained that this misses the mark. "The county may not prohibit the churches' free exercise of religion, but this does not mean Morris County must pay the churches' repair bills," FFRF asserts. The U.S. Supreme Court has upheld state constitutional provisions very similar to New Jersey's, despite similar arguments against them.
FFRF has asked that the court grant FFRF's summary judgment motion, declare that the grants violate the New Jersey Constitution, prohibit Morris County from issuing similar grants in the future, and require the churches to repay the grants they improperly received. The court will hear oral arguments for the case on Oct. 13. Since Morris County has spent tax dollars on the exact thing the state constitution prohibits, FFRF is confident that it will prevail. With this victory, FFRF will ensure that Morris County taxpayers will no longer be forced to finance religious buildings.
The lawsuit is being handled by attorney Paul S. Grosswald. FFRF Staff Attorney Andrew L. Seidel and Diane Uhl Legal Fellow Ryan Jayne are co-counsel. FFRF v. Morris County Board of Chosen Freeholders, Case No. C-12089-15 is in the Chancery division of Somerset County in New Jersey state court. The judge assigned to the case is Margaret Goodzeit. FFRF's prior brief can be seen here.
The Freedom From Religion Foundation is a nationwide nonprofit organization dedicated to the constitutional separation of state and church, with more than 23,000 members across the country, including almost 500 in New Jersey.