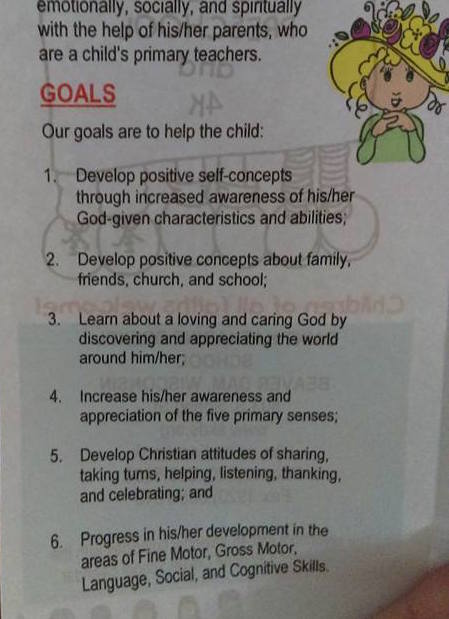 An unconstitutional tie-up between a Wisconsin school district and a parochial preschool has been nixed following a Freedom From Religion Foundation complaint.
In Beaver Dam Unified School District, 3-year-old public school students with developmental delays were often being sent to private preschools. FFRF's complainant, who has an eligible child, was offered only one choice: a Catholic school, St. Katharine's, whose preschool is named God's Little Miracles. To quote the school itself, its "program is based on the theme 'Thank you, God.'" Materials the complainant received from a Beaver Dam Unified School District teacher contained many religious references and images.
"It is wildly inappropriate for the School District to send 3-year-old public school students to private schools for religious instruction," FFRF Legal Fellow Ryan Jayne wrote in June to Stephen Vessey, superintendent of the Beaver Dam Unified School District. "Courts have repeatedly struck down public school practices that affiliate public schools with religious groups and religious instruction. By sending students to receive religious instruction at St. Katharine's, the district is violating this constitutional principle."
The School District investigated the situation and told St. Katherine's what it would have to do to comply with the law and district policy. St. Katherine's decided to stop participating altogether in the 3K program rather than make any changes, revealing that religious instruction was its primary goal. (It did agree to requested modifications in its 4K program.)
"After being advised of the changes that would have to be made to the 3K program, [St. Katharine Drexel] School indicated it no longer wished to provide the Early Childhood (3K) program to district students, and the district has accepted the school's withdrawal from participating in the program," Vessey recently replied. "Any students who were enrolled in the school's Early Childhood program by the district for the coming school year have since been moved to a program offered at a different site."
FFRF hails the School District's investigation, but also wishes to highlight the implications of St. Katharine's move.
"Once alerted, Beaver Dam school officials did do a good job of rectifying the situation," says FFRF Co-President Annie Laurie Gaylor. "However, St. Katharine's proselytizing motivations are laid bare by its refusal to modify its curriculum to continue participating in the 3K Early Childhood program."
The Freedom From Religion Foundation is a Wisconsin-based organization dedicated to the separation of state and church, with almost 24,000 members, including more than 1,300 in Wisconsin.