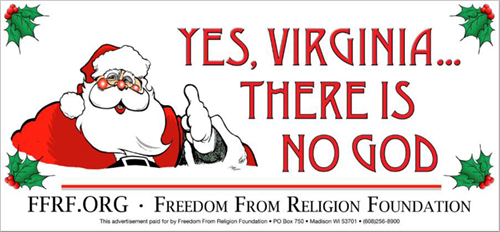 The national Freedom From Religion has placed two irreverently seasonal billboards in Denver, one saying "Reason's Greetings," the other boasting a jolly Santa saying "Yes, Virginia, There Is No God."
The billboard displays, which went up late yesterday, are up 6th Ave via Mariposa and 6th Avenue and Viaduct for two weeks.
The Madison, Wis.-based Foundation, which is the nation's largest association of freethinkers (atheists and agnostics) has more than 16,000 nonreligious members nationwide, with about 500 of them in Colorado. FFRF is currently suing the Colorado governor over his National Day of Prayer proclamations, in a case on appeal in state court.
The "Yes, Virginia" reference is a play on the famous question posed by 8-year-old Virginia O'Hanlon in 1897 to the New York Sun newspaper. In an unsigned editorial, the Sun's Francis P. Church wrote his oft-repeated "Yes, Virginia, there is a Santa Claus" line.
The Santa message and artwork, designed by Steve Benson, a former Mormon who is the Pulitzer prize-winning cartoonist for the Arizona Republic, ran on buses in Seattle at the end of last year, but were censored in Las Vegas. FFRF and its Triangle Chapter currently have posted the "Reason's Greetings" message on a large billboard in Raleigh, N.C.
Annie Laurie Gaylor, Foundation co-president, said the greeting is a reminder of the real reason for the season — the Winter Solstice, which takes place this year on Tuesday, Dec. 21 and is the shortest, darkest day of the year. The date has been celebrated for millennia in the northern hemisphere with evergreen displays, feasts, festivals of light and gift-exchanges, since it signals the return of the sun and the natural new year.
"We nonbelievers don't mind sharing the season with Christians," Gaylor added, "but we think there should be some acknowledgment that the Christians really 'stole' the trimmings of Christmas."
Dan Barker, Foundation co-president, a former minister-turned atheist, said Christians tend to think "they own the month of December. We don't agree. No month is free from pagan reverie!"
The percentage of the national population that identifies as nonreligious is 15% but Colorado has a showing of 21% who are not religious (American Religious Identification Survey 2008).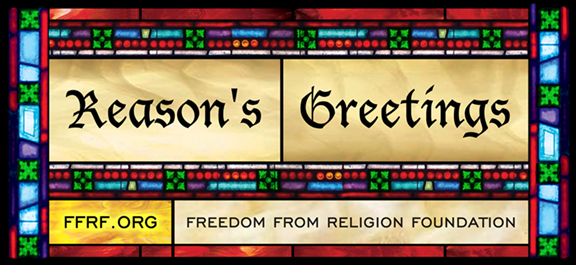 The Foundation chose downtown Denver for the non-"holy-day" displays due to a history of state/church skirmishes in the Denver area, including nativity displays on government property.
FFRF, an educational charity, thanks one of its local members for a contribution toward the costs of the two billboards.