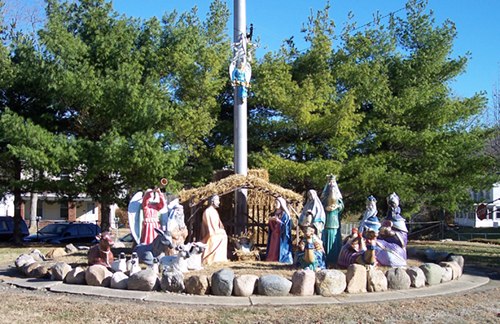 The Freedom From Religion Foundation, on behalf of members in the Franklin County [Ind.] area, sent a letter to county commissioners and the Brookville Town Council objecting to a large nativity scene prominently displayed on the lawn of the Franklin County Courthouse.

The Foundation, based in Madison, Wis., works to keep state and church separate and has more than 16,000 members nationwide and more than 220 in Indiana.

The Franklin County nativity scene, which is owned by the city of Brookville, includes life-size figures of Mary, Joseph, Jesus, angels and others. An angel and star are affixed to the flag pole, and the entire scene is illuminated at night.

"The nativity scene located at the base of a flagpole sends a message that patriotism correlates with Christianity, which excludes nonreligious citizens from their own government," said Annie Laurie Gaylor, Foundation Co-President.

"The nativity scene violates the Establishment Clause of the First Amendment because it confers government endorsement of Christianity," Rebecca Markert, FFRF senior staff attorney who wrote the letter of complaint, told CNN. "Franklin County must conform to constitutional dictates. The best way to remove constitutional concerns with this display is to relocate it to private property where it is more appropriately displayed."

Markert wrote: "It is unlawful for a government body to maintain, erect or host a holiday display that consists solely of a nativity scene, thus singling out, showing preference for and endorsing one religion.

"The Supreme Court has ruled it is impermissible to place a nativity scene as the sole focus of a display on government property," the letter said.

"Once the government enters into the religion business, conferring endorsement and preference for one religion over others, it strikes a blow at religious liberty, forcing taxpayers of all faiths and of no religion to support a particular expression of worship," noted Markert.

While neither the city nor county have officially responded to the Foundation, one county commissioner indicated to the press that attorneys were reviewing the situation and that a response would be formulated after the first of the year.

Markert wrote a follow-up letter stating: "This is unacceptable. Franklin County cannot continue to disregard the law and allow an unconstitutional religious display to remain on the courthouse lawn. We expect the county to take immediate action to bring the display into conformity with constitutional dictates prior to the end of the holiday season."
Action Alert
Please contact the county commissioners objecting to the nativity display.
Franklin County Commissioners
2nd Floor, Government Center, Room #201
1010 Franklin Ave.
Brookville IN 47012
This email address is being protected from spambots. You need JavaScript enabled to view it.