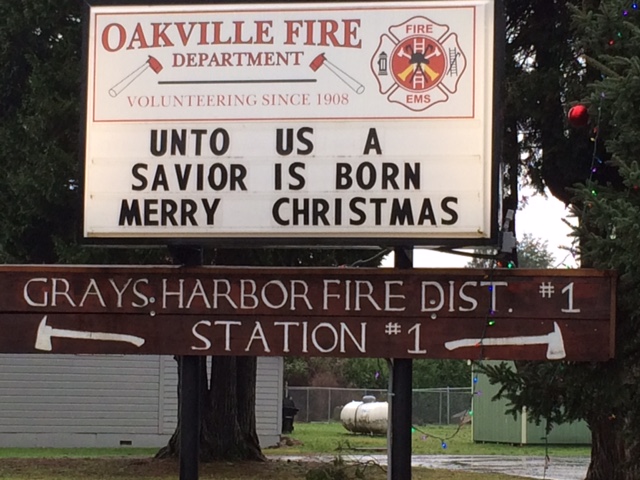 A fire department in the state of Washington has agreed to stop posting religious messages on its outdoor marquee, following a Freedom From Religion Foundation complaint.
The Oakville Fire Department, Grays Harbor Fire District #1 had put up a sign last holiday season reading: "Unto us a savior is born, Merry Christmas." It was temporarily taken down after a citizen complained, but was then put back up. FFRF pointed out its inappropriateness and unconstitutionality.
"The U.S. Supreme Court has stated: 'The government may acknowledge Christmas as a cultural phenomenon, but under the First Amendment it may not observe it as a Christian holy day by suggesting people praise God for the birth of Jesus,'" FFRF Legal Fellow Madeline Ziegler wrote to Oakville Fire Chief Kevin Witt back in December. "Furthermore, other federal courts have upheld restrictions on the display of religious materials by government entities because such restrictions exist to avoid violation of the Establishment Clause of the First Amendment."
The Constitution must be honored, no matter how many people favor the government's promotion of Christianity, FFRF emphasized. The Constitution requires strict government neutrality on religion to respect the rights of all citizens, including the more than 23 percent who are nonreligious.
The Oakville Fire Department recently responded that it has complied with FFRF's request.
"I am pleased to inform you that at the commission's meeting in January 2016, it is noted in the minutes that there will not be any more religious messages on the Fire Department reader board," replied Deanna Lindholm, secretary of the Oakville Fire Department. "It reads in the minutes that the Fire Department will uphold the laws of the state of Washington and the Constitution of the United States of America."
FFRF is gratified by the response.
"We are glad that the Oakville Fire Department has recognized the sanctity of the U.S. Constitution," says FFRF Co-President Annie Laurie Gaylor. "This time, we trust that there will be no backsliding."
The Freedom From Religion Foundation is dedicated to the separation of state and church, with 23,800 nonreligious members nationwide, including more than 1,000 and a chapter in Washington.