Freedom From Religion Foundation Co-President Annie Laurie Gaylor deplores the recently passed Oklahoma bill that will make it a felony for doctors to perform abortions.
Bill supporters openly acknowledge the measure is ultimately aimed at overturning Roe v. Wade., the U.S. Supreme Court's 1973 decision legalizing abortion nationwide.
Gaylor notes that FFRF would not exist were it not for the fact that she and her mother, the late Anne Gaylor—an early abortion-rights advocate—realized the only organized opposition to abortion is religion-based. "The fight for contraceptive and abortion rights in the state of Wisconsin in the late 1960s and early 1970s opened our eyes to the harm of religious dogma ever being enshrined in civil laws affecting women," she says.
Bill sponsor state Sen. Nathan Dahm has made public statements that "life begins at conception." That claim is based on a religious idea of ensoulment, which is "not a fact, but is based on faith," Gaylor adds. FFRF has run a series of full-page newspaper ads recently, including in Tulsa last Sunday, pointing out that the bible is not actually anti-abortion.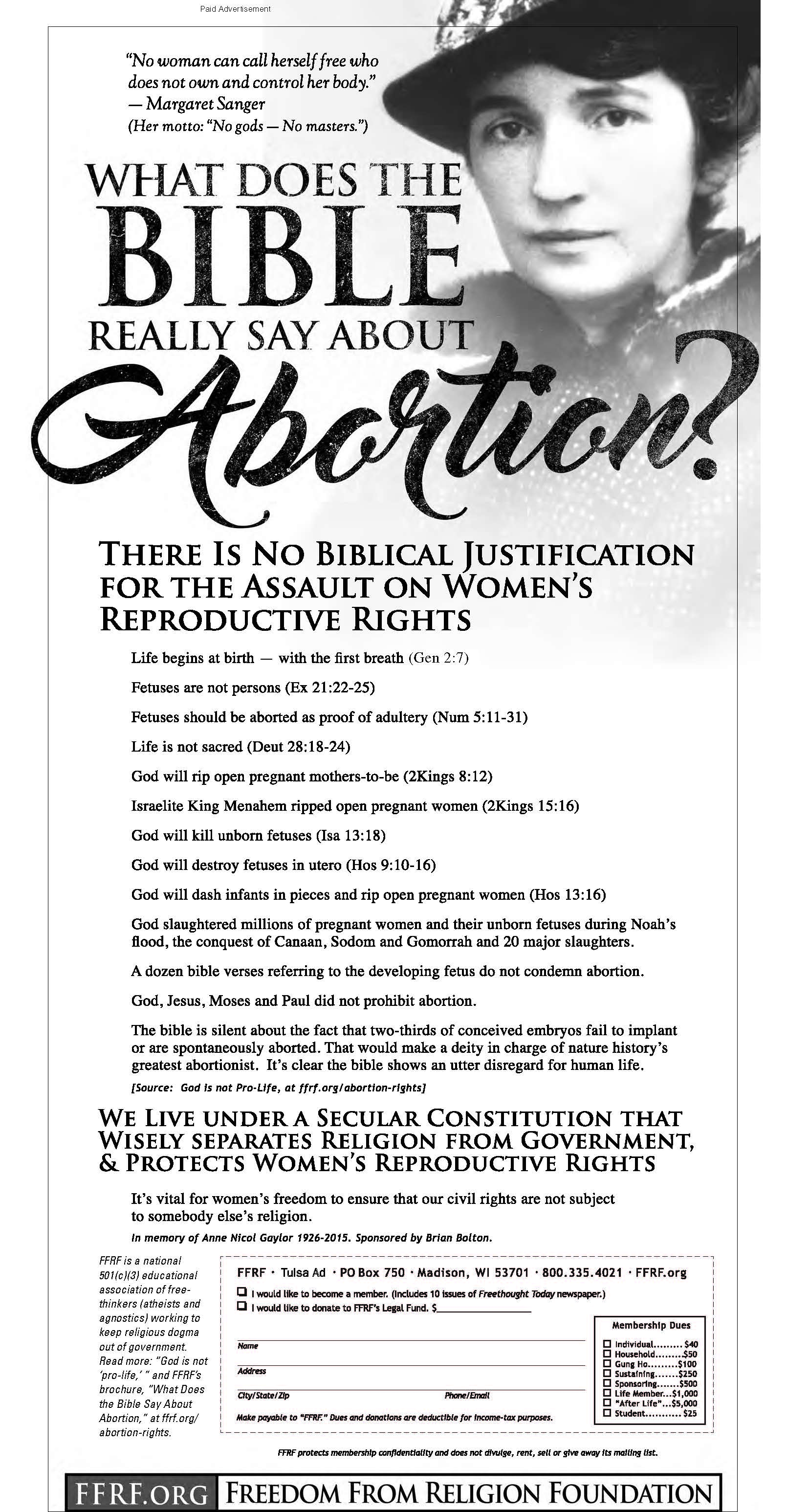 Oklahoma Gov. Mary Fallin (an anti-abortion Republican) has until Wednesday to sign the bill into law or to veto it. She needs to do the correct—and constitutional—thing to protect women's rights in her state.
*Update: FFRF welcomes Fallin's veto on Friday afternoon of the egregious bill. Even someone as staunchly conservative as Fallon realized that the Oklahoma Statehouse had stepped way over the line.