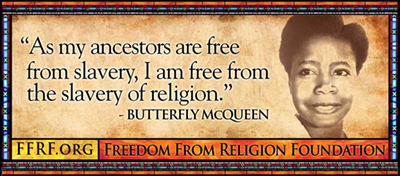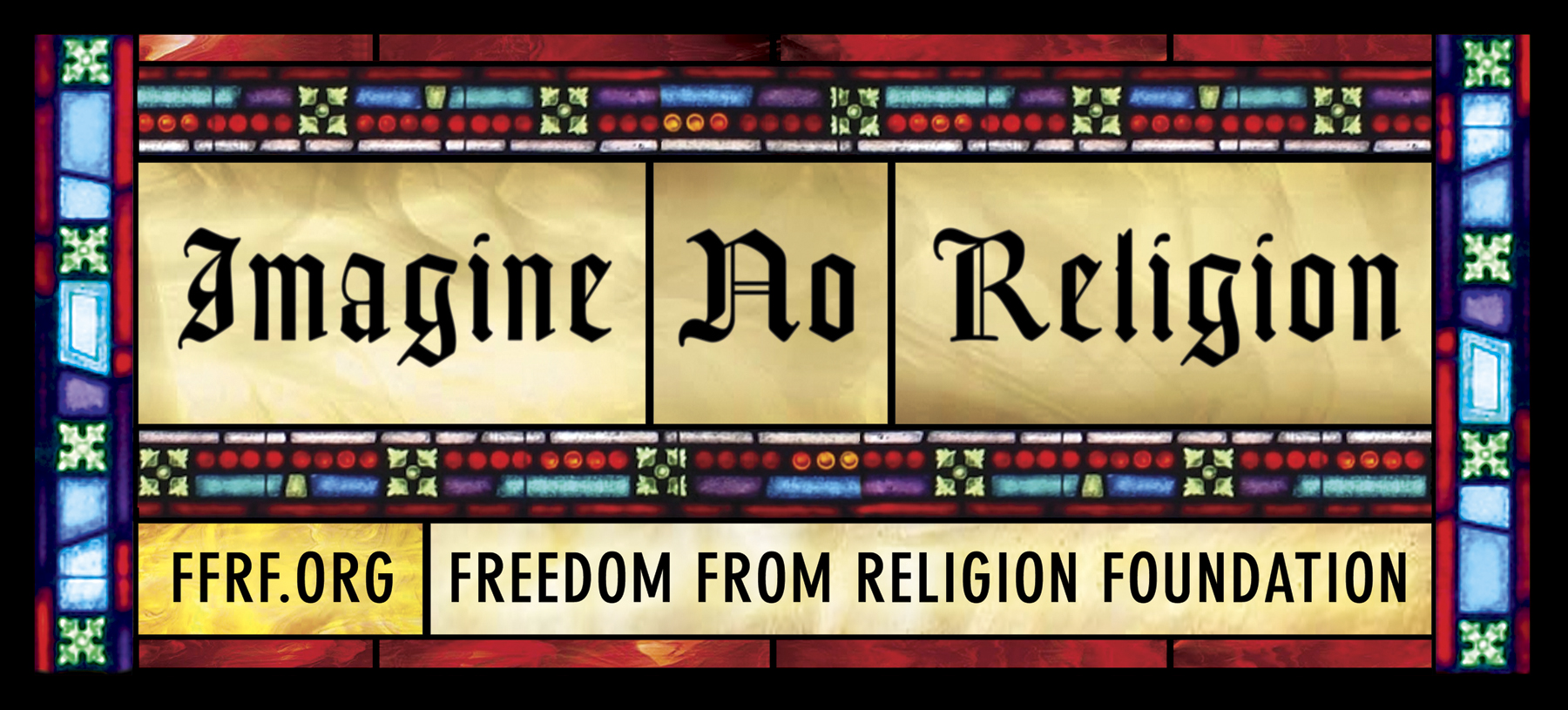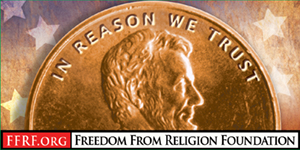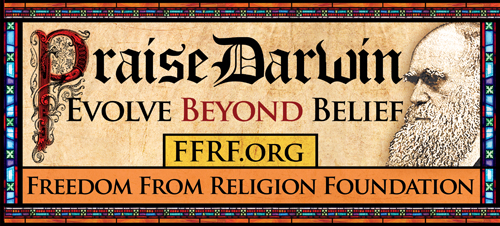 The Freedom From Religion Foundation, the nation's largest association of freethinkers (atheists and agnostics), is spreading the word of freethought throughout Louisville, Ky., with 20 billboards going up this week for a month.
The Madison, Wis.-based Foundation, which has more than 16,000 nonreligious members nationwide, includes more than 100 Kentuckians but would like to increase its area membership. The Foundation works to keep church and state separate.
The "mini-blitz" of billboards is also PR for nonbelief. "If all Americans ever see are religious symbols and billboards and TV shows, then religion is going to win by default. We think it's time to take freethought out of the closet and represent the views of the 15% of adult Americans who reject religion," says Foundation Co-President Annie Laurie Gaylor.
There are 4 FFRF designs, including one featuring actress Butterfly McQueen, which showcases her statement: "As my ancestors are free from slavery, I am free from the slavery of religion." McQueen, who played the role of "Prissy" in "Gone With the Wind," rebelled her entire life against religion as she rebelled against stereotyped acting roles and was a Lifetime Member of the Foundation.
The other billboards include these varied FFRF messages:
• "Imagine No Religion" on a stained-glass background
• "In Reason We Trust" on face a penny
• "Praise Darwin — Evolve Beyond Belief" with Darwin portrait
FFRF points out that "In God We Trust" was not the original U.S. motto, and in fact was a Johnny-come-lately adopted by Congress at the height of the McCarthy era.
"Our government should be staying out of the religion business," says Foundation Co-President Dan Barker, a former evangelical minister who has written Losing Faith in Faith and Godless.
Among Louisville seculars was Louis Brandeis, who served on the U.S. Supreme Court, spent his boyhood in Louisville and is buried in Louisville.
Another historic Kentucky freethinker was Josephine K. Henry, born in Newport in 1846, who settled in Versailles. Henry was the first woman in the South to run for State office as the 1890 candidate for the Prohibition party of Kentucky for clerk of the Court of Appeals. Henry did not win, but received nearly 5,000 votes. Henry was the main lobbyist responsible for winning passage of the 1894 Woman's Property Act in Kentucky. Henry was declared an "undesirable member" of the Kentucky Equal Rights Association she had cofounded for being a contributor to Elizabeth Cady Stanton's The Woman's Bible. In that book, Henry wrote: "No institution in modern civilization is so tyrannical and so unjust to woman as is the Christian Church. It demands everything from her and gives her nothing in return."
Although Stephen Foster never set foot in Kentucky, his song "My Old Kentucky Home" ties his name indelibly to the state. Foster appeared to be entirely secular, never joined a church, wrote secular music except when filling his stomach by writing Sunday School songs by assignment, and his 1846 utopian song, "There's a Good Time Coming," refers to "shameful rivalries of creed."
Also being blanketed this week with FFRF billboards is Atlanta, where FFRF is placing 50 billboards. And FFRF this week is placing a very special billboard in Tulsa. It reads: "Atheism is OK in Oklahoma" and salutes U.S. Sen. Thomas Gore as the "first atheist senator." Gore served from 1907-1921 and 1931-1937. His grandson, the famous writer Gore Vidal, recently stated that Sen. Gore was a "dedicated atheist."
In early August, FFRF took Tampa Bay by storm with 20 colorful billboards posted throughout Tampa and St. Petersburg. FFRF posted 5 billboards in New Orleans recently, including a 14x48 foot billboard at prominent Canal and Rampart Streets. At the end of August, FFRF posted 19 billboards in Trenton, N.J.
Since launching a national billboard campaign in October 2007, the educational nonprofit has placed billboards in half the states and about 45 cities.
Locations follow: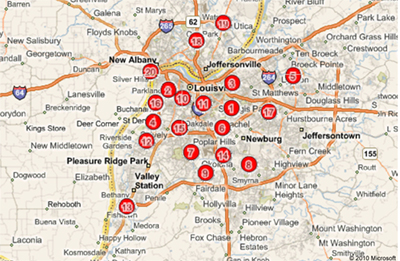 1 2245 Bardstown Face: S 16.92 Y Kentucky Flea Market
2 Broadway & 30Th Face: E 5.75 Y Wendy's
3 2917 Brownsboro Face: E 10.02 Y Kentucky Flea Market
4 4100 Cane Run Face: S 27.18 Y Kentucky Flea Market
5 8044 Lagrange Face: W 7.70 Y Kentucky Flea Market
6 4216 Poplar Level Face: N 26.08 Y Wendy's
7 6631 Southside Face: N 18.98 Y Kentucky Flea Market
8 6971 Shepherdsville Face: N 18.70 Y Kentucky Flea Market
9 7501 Grade Face: N 6.49 N Holiday World
10 Oak & 15Th Face: E 4.41 N Law Offices of Brandon J. Lawr
11 1512 Shelby Face: S 3.14 N Insight
12 2619 Rockford Face: E 7.20 N Wendy's
13 11605 Dixie Face: N 14.93 N Quail Chase
14 3301 Fern Valley Face: W 24.61 Y Kentucky Flea Market
15 1309 Berry W/O Taylor Face: W 9.96 Y Wendy's
16 4269 Algonquin Face: E 2.81 N McDonald's
17 3014 Huntsinger Face: N 3.64 Y Kentucky Flea Market
18 1105 Ind 131 Face: N 26.77 Y Stantec
19 Ind 62 E/O Sunset Lake Face: E 10.54 N Coca Cola North America
20 1372 Corydon Pike E/O Hwy 111 Face: W 13.68 Y Stantec