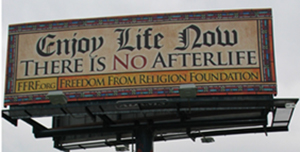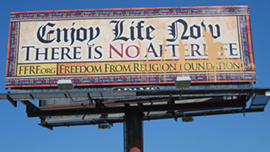 A billboard saying "There Is No Afterlife: Enjoy Life Now" placed in Watertown, Wis., by the Freedom From Religion Foundation on behalf of a local member, was vandalized. Paint was poured on the billboard posted at the entrance to Watertown at N8690 High Rd., apparently sometime overnight on Thursday, Aug. 26.
The vandalized vinyl message was promptly removed by Adams Outdoor Co., on Friday. Adams Outdoor is replacing the message gratis and expects to have it back up around Labor Day to honor FFRF's 6-week lease. The billboard went up on the first week of August.

An octogenarian Lifetime Foundation member who prefers not to be publicly named suggested the wording of the slogan as a legacy for his grandchildren.

The donor of the billboard is putting up $500 and the Foundation is matching that pledge for information leading to the arrest and conviction of the vandal(s). The donor expressed shock and revulsion that a vandal or vandals would deface his message to "enjoy life now."

"At least 45 million honest Americans reject the supernatural idea of life-after-death," said Dan Barker, Foundation co-president, who has written two books about "losing faith in faith" and leaving the evangelical ministry. Barker quoted a poem by Emily Dickinson: "That it will never come again is what makes life so sweet."

"There is no evidence of a soul or an afterlife," added Annie Laurie Gaylor, Foundation co-president. "We freethinkers believe the only afterlife we should be concerned about is leaving a secure and pleasant future for our descendants."

In order to claim a reward, information leading to the conviction of the vandal or vandals should be directed to the Foundation, which will pass on information to the Jefferson County Sheriff's Department. Contact the Foundation by phone (608/256-8900) or .