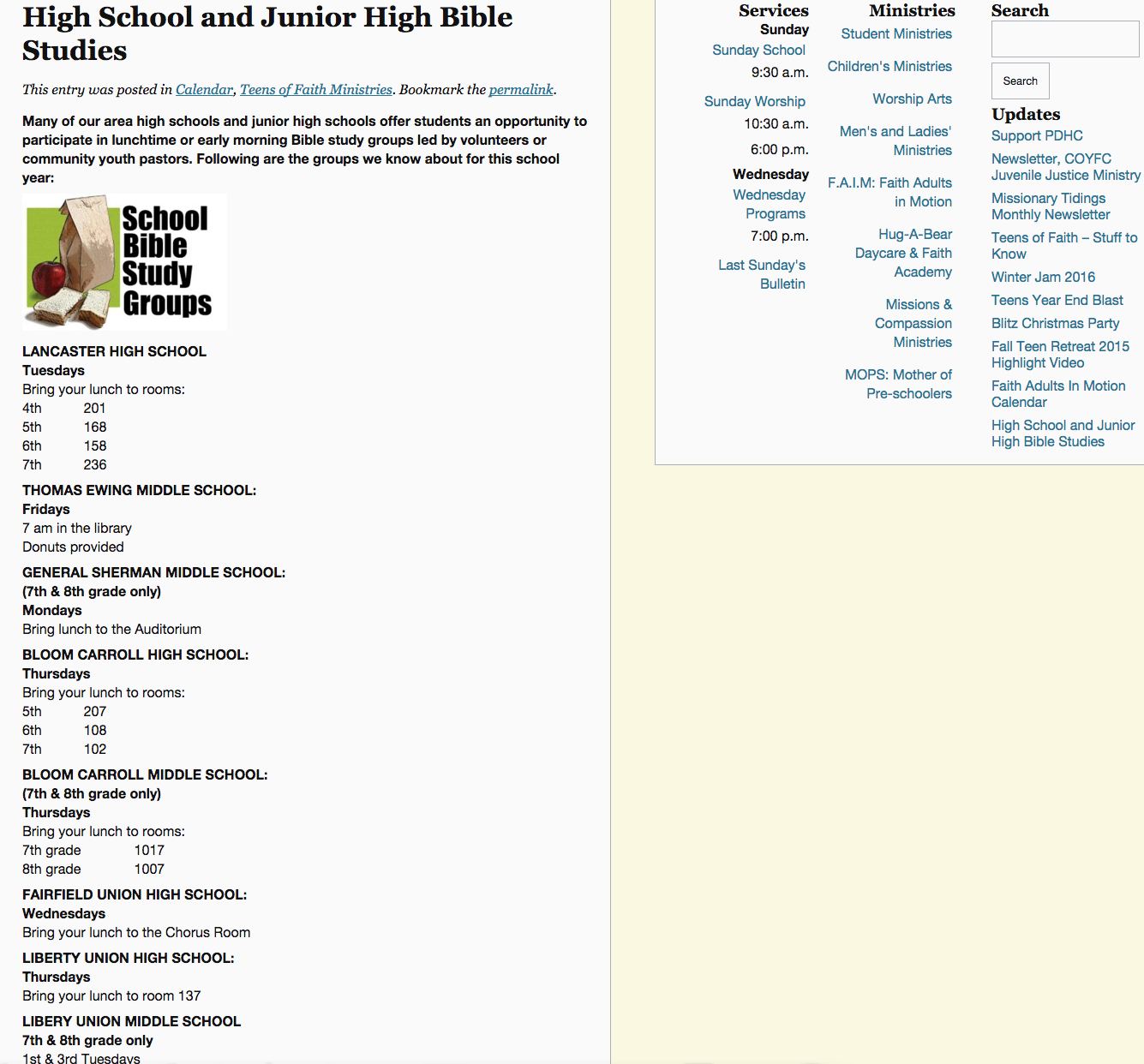 The Freedom From Religion Foundation is asking for an investigation into bible study groups in several Ohio public schools that appear to be violating the constitutional separation of church and state.
It has come to FFRF's attention that Faith Memorial Church in Lancaster, Ohio, southeast of Columbus, has apparently organized bible study groups in a number of local public schools. The church's website states that "many of our area high schools or junior schools offer students an opportunity to participate in lunchtime or early morning Bible study groups led by volunteers or community pastors." (The webpage was deleted on Feb. 3) The church lists such groups in eight public schools in its vicinity, including four high schools. Most of the clubs meet during the schools' lunch breaks and are run by adults, according to the church's webpage.
The courts have clearly decided over the years that public schools cannot advance, prefer or promote religion. Even though in some circumstances there can be student-led religious groups under the Equal Access Act, direction by outside adults is not permitted. Back in 1948, the U.S. Supreme Court ruled in the landmark McCollum v. Board of Education that religious instruction on public school premises violates the Establishment Clause of the Constitution. In FFRF's Doe v. Porter, a 2002 case, the Sixth Circuit (the federal court of appeals in Ohio) affirmed this decision. Faith Memorial Church's activities in various public schools appear to flout such jurisprudence.
"We request that you investigate these concerns and, if confirmed, halt the FMC's involvement with student religious clubs," FFRF's Diane Uhl Legal Fellow Ryan Jayne states in Feb. 5 letters sent to officials in charge of the Ohio schools where the bible study groups have convened. "Any clubs that were led by FMC representatives should be dissolved because they are not bona fide student-initiated clubs. Students would be free to re-establish the clubs, on their own initiative, in the future."
FFRF has a national enrollment of 23,000 nonreligious members, including more than 500 individuals in Ohio. Ohio is consistently on FFRF's annual "top 10" list of states with highest state/church violations.