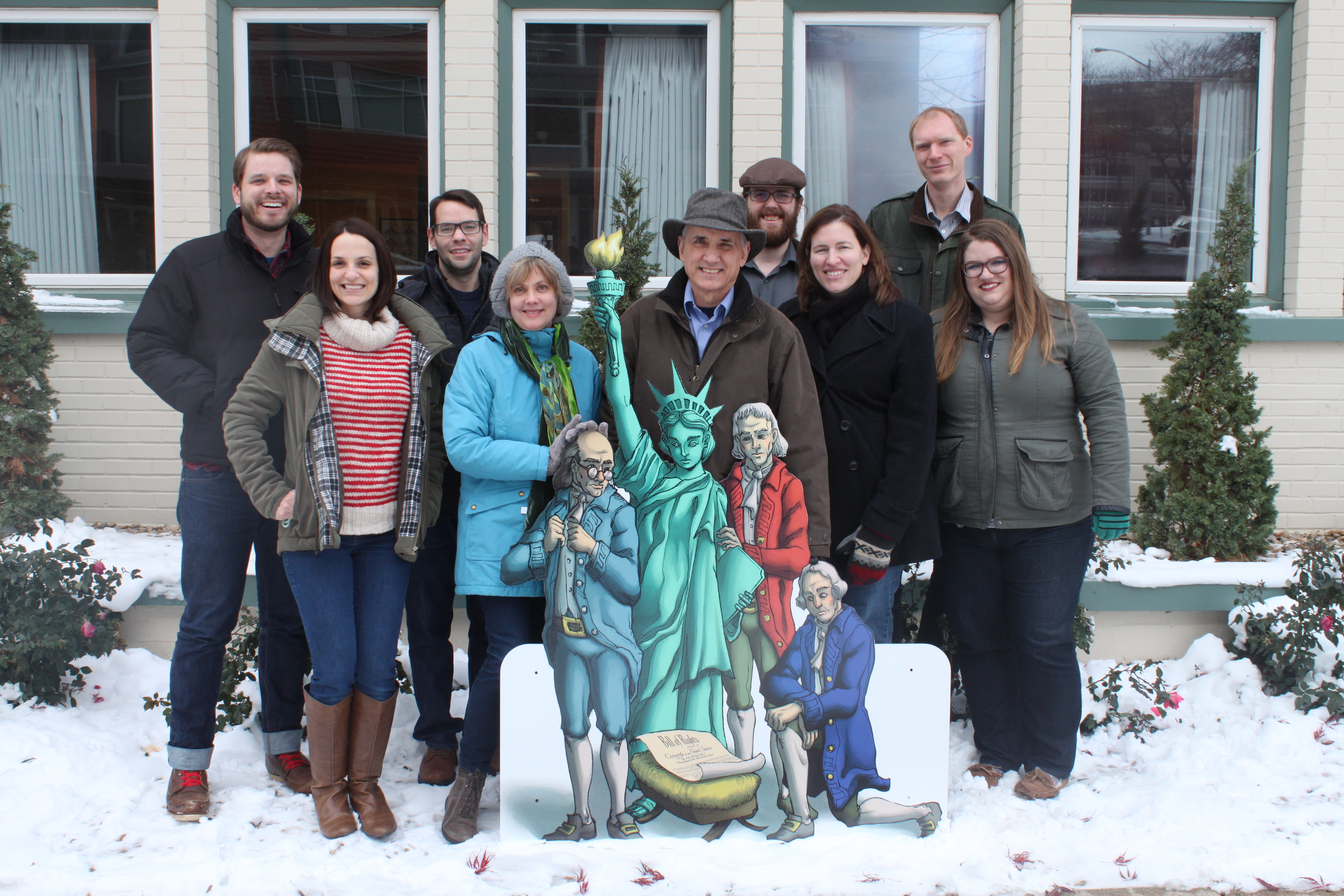 This display will be going up soon at the courthouse in Franklin Co., Ind. Pictured: FFRF's legal department and executive directors. Photo- Andrew L. Seidel.

The Freedom From Religion Foundation has acquired a permit to place its Bill of Rights "nativity" display on the lawn of the Franklin County Courthouse. FFRF's display setup event will take place on Sunday, Nov. 29 at 10:00 a.m. The location is the Courthouse lawn in Brookville, Ind., near the corner of Main Street and 4th Street (401-449 Main St, Brookville, IN 47012). Our local contact will be there along with at least a dozen members of the Tri-State Freethinkers.
All are welcome to help FFRF celebrate the Winter Solstice and the "birth" of the Bill of Rights on Dec. 15, 1791.
This is the first year that Franklin County will allow a variety of displays on its courthouse lawn, thanks to FFRF's lawsuit with the ACLU of Indiana, challenging the county's decade-long policy of only allowing a nativity scene on its lawn.
FFRF is a state/church watchdog with about 23,000 nonreligious members, including more than 350 in Indiana.
"We'd prefer that the government stay out of the business of promoting any religious belief or atheism on government property," said FFRF Co-President Annie Laurie Gaylor. "But, because the county created a forum for displays in response to FFRF's lawsuit, we are taking the opportunity to ensure that freethinkers are well represented at the courthouse in Brookville, too."
FFRF invites area freethinkers to attend the placement of its solstice display this Sunday, Nov. 29 at 10:00 a.m. "to celebrate diversity, freethought, the Winter Solstice, and the freedoms we all share in the United States, thanks to our Bill of Rights."