Click images below to enlarge.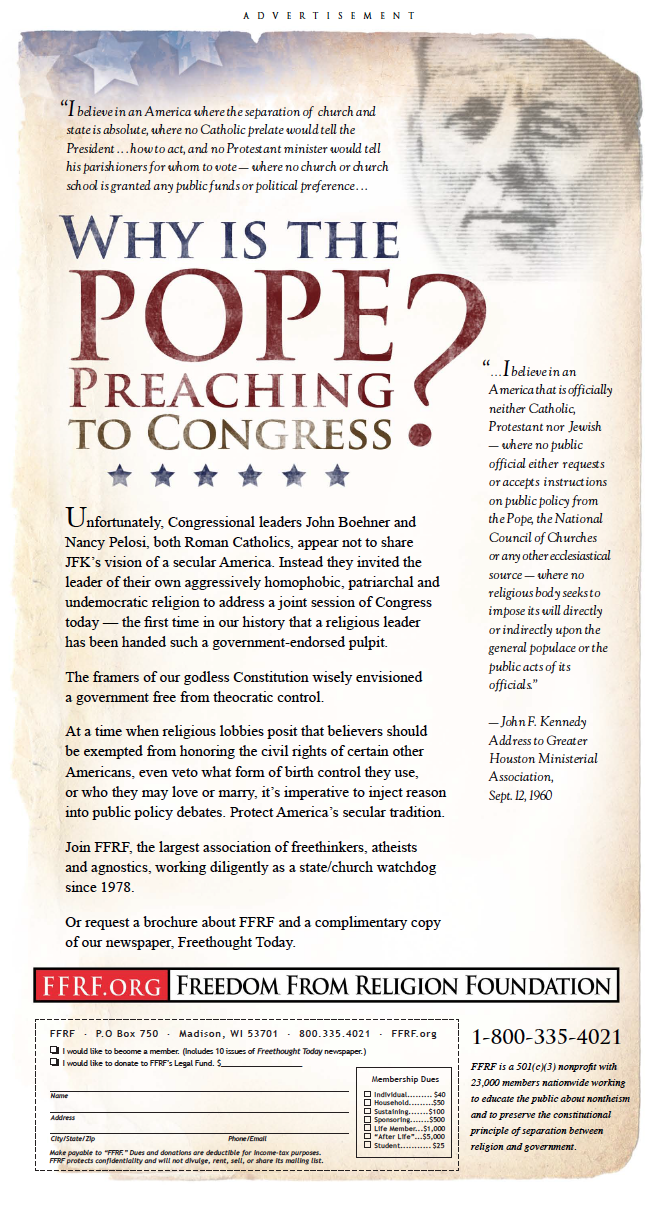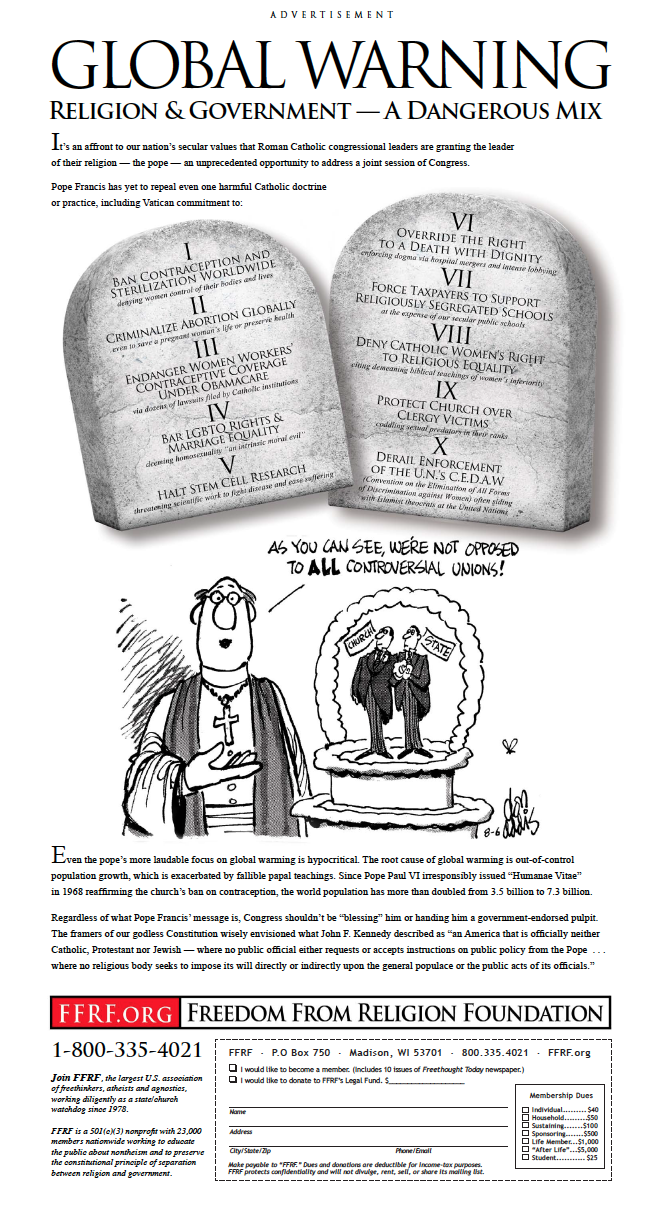 The Freedom From Religion Foundation is pulling out the stops both with letters of complaint and TV and newspaper advertising protesting state/church entanglements with Pope Francis' joint address to Congress Thursday.
The Freedom From Religion Foundation was singled out in a column by Ginia Ballafante in The New York Times last weekend for our activism protesting the appearance of government favoritism of religion involving pope-government entanglements. (Read column here: "An Atheist Group Asks, Should New York Be in the Pope Business?")
NEWSPAPER ADS RUN ON THURSDAY IN SEVERAL CITIES
We're running full-page ads in The Washington Post, The New York Times, USA Today and the Philadelphia Enquirer Thursday. The Washington Post ad features the words of candidate John F. Kennedy, affirming an America with an "absolute" separation between church and state, "where no public official either requests or accepts instructions on public policy from the Pope. . . "
FFRF is running a more hard-hitting ad, "Global Warning," in The New York Times, USA Today and Philadelphia Inquirer, calling it "an affront to our nation's secular values that Roman Catholic congressional leaders are granting the leader of their religion — the pope — an unprecedented opportunity to address a joint session of Congress." The ad depicts a graphic with a Ten Commandments-like monument of Catholic dogma and practice which the Vatican seeks to impose via law. It also features a light cartoon by Don Addis showing a priest blessing the marriage between church and state.
TV COMMERCIALS NATIONALLY AND IN MAJOR CITIES
FFRF is also airing a 30-second ad in metropolitan areas on CBS's new Late Show featuring Stephen Colbert on Wed., Sept. 23, the eve of the pope's visit. (CBS declined for reasons unknown to accept the ad nationally.) Cities where you may view the 30-second spot, employing John F. Kennedy's ringing endorsement of "an America where the separation of church and state is absolute," are: New York City, Los Angeles, Chicago, Philadelphia, Dallas, San Francisco, Boston, Detroit, Minneapolis, Miami, Denver, Sacramento, Pittsburgh, Baltimore, Seattle, Milwaukee, Cleveland, Austin, Salt Lake City, Madison and Phoenix.
Additionally, the JFK spot will run nationally on ABC Nightly News on Thursday, Sept. 24, when there will be coverage of the pope's unprecedented address to a joint session of Congress.
FORMAL PROTESTS OF STATE/CHURCH VIOLATIONS
FFRF has written John Boehner asking him to invite an atheist dignitary, Richard Dawkins, to address a joint session of Congress to balance the score, has protested Pennsylvania prisoner creation of a special chair for the pope's visit, Congressional tickets, to view the pope and New York City's lottery to glimpse the pope in Central Park. We've also contacted the White House to protest its website promotion of the pope's devotional events, and its invitation to citizens to sign up for alerts about the pope.
ALSO LOOK FOR RON REAGAN'S "UNABASHED ATHEIST" AD
FFRF is also seeking to turn attention to something positive, by running its powerful commercial by Ron Reagan, a 30-second ad, on CNN's Anderson Cooper Monday through Fridays daily for the next three weeks. So far, CNN is the only national network that hasn't censored FFRF's spot.
If you approve, we hope you will consider a donation to FFRF's Advertising Fund to enable us to continue to speak out as a national voice for reason, freethought and secular government.