The city of Casselberry, Fla., cancelled a planned partnership with Church Together, an evangelical Christian church, for a city camp's soccer event, after the Freedom From Religion Foundation lodged a complaint.
Camp Casselberry, a city-run youth program, was scheduled to partner with Church Together for the camp's "Friday Fun Day" at a local park last Friday. Pastor Andy Searles and church volunteers were to participate in and facilitate the event.
When Searles partnered with Camp Casselberry in 2014, his message to campers reportedly was to be good at three aspects of life—physical, mental, and spiritual. Searles allegedly likened being "spiritually good" to being "scripturally good."
"Our concern is that Mr. Searles and church volunteers will take this opportunity to again proselytize Camp Casselberry campers," wrote FFRF Staff Attorney Andrew Seidel in a June 24 letter.
Since the event was city-sponsored, "paid or not, Mr. Searles and the church volunteers are bound by the First Amendment like any other government employee and must remain neutral toward religion during their participation in Camp Casselberry," said Seidel. "Additionally, the city would be liable for their constitutional violations if they fail to remain neutral towards religion during their participation in this event."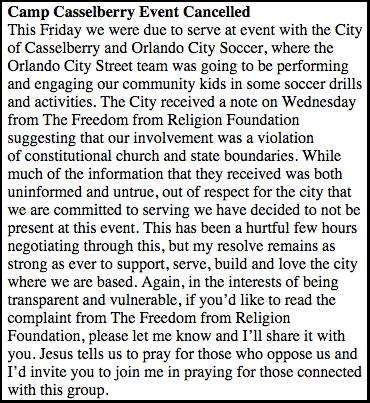 A Church Together newsletter obtained by FFRF confirmed that the church would not be participating in the event. The Church also urged congregants to pray for people connected with FFRF.
"They can pray for us all they want, so long as they don't force that prayer on other people's children," commented Seidel.
Church Together has a history of proselytizing students in secular settings. The church was very recently known as The Venue Church at South Seminole, one of three Venue Churches in the Orlando area, whose stated goal is "permanently planting churches in Central Florida Schools." The churches have recently split and been renamed, but they continue to meet at in schools in Orange County Public
FFRF has long tangled with the Venue churches, and especially Venue founder Todd Lamphere for his illegal relationship with Apopka High School. FFRF has learned that Lamphere, pastor at Venue's flagship church at Apopka, was reportedly forced to resign earlier this month for reasons unknown and abruptly departed the church. All mention of Lamphere has been scrubbed from The Venue Church's website.
The Venue Church, and Lamphere in particular, generated a litany of violations of state-church separation in OCPS and SCPS, such as Lamphere's position as a chaplain with Apopka's football team and other Apopka teams, football and soccer "team mission trips" with Venue, and "dedications" for various athletic teams at Venue services, among many others. FFRF has sent over a dozen letters to the two school districts since 2012, and continues to work with the school districts' attorneys to resolve complaints. FFRF is hopeful that Lamphere's departure from Venue will cut down on the reports of unconstitutional activity coming out of Apopka High School.
FFRF also previously wrote to Casselberry Mayor Charlene Glancy after she appeared in a promotional video for The Venue Church in her official capacity as mayor.
FFRF is a national state/church watchdog. More than 1,100 of its 22,500 members live in Florida, and it has a state chapter, the Central Florida Freethought Community, which is led by local activist David Williamson.