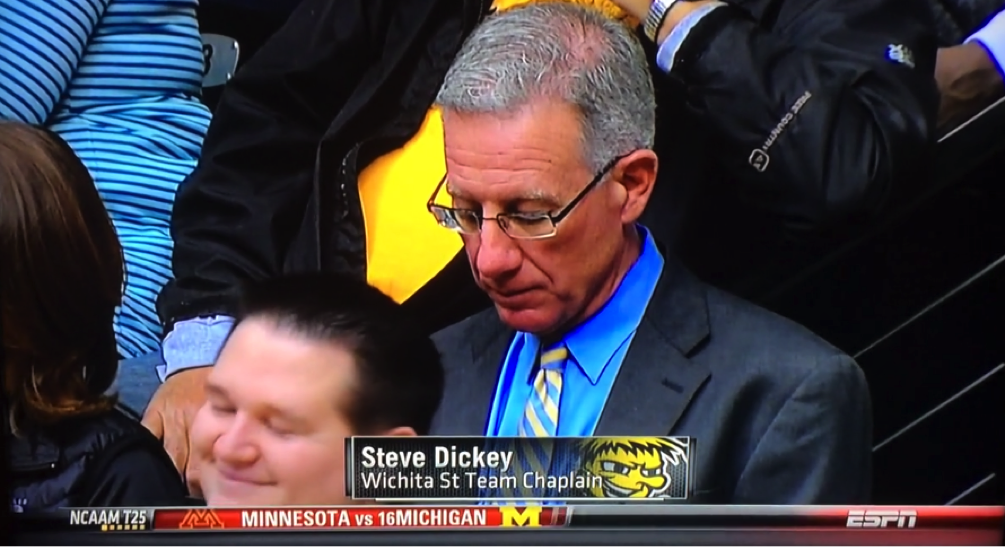 The Freedom From Religion Foundation has sent a letter to the president of Wichita State University after learning that the public Kansas college employs a team chaplain for its Sweet 16-bound basketball team.
FFRF is a national state/church watchdog with more than 21,500 nonreligious members nationwide, including over 150 members in Kansas.
While the university refers to chaplain Steve Dickie as a "character coach," media reports and players make it clear that his role is religious, and often identify him as a chaplain. Dickie leads the team in prayer and blesses team dinners.
FFRF Staff Attorney Andrew Seidel and Legal Fellow Katherine Paige, a WSU grad, sent the letter today on behalf of FFRF. "Public school athletic teams cannot appoint or employ a chaplain, seek out a spiritual leader for the team, or agree to have a volunteer team chaplain because public schools may not advance or promote religion," they wrote.
One in three Americans under the age of 30 is nonreligious, FFRF points out. "It is very likely Dickie is imposing his religion on students who are not religious and just want to play basketball," note Seidel and Paige. "Abolishing the team chaplaincy will not alter student athletes' ability to pray, but it will prevent some student athletes from feeling coerced into participating in prayers to a deity they may not believe in."
FFRF asks WSU to end the chaplaincy and educate athletic staff on constitutional boundaries.
FFRF also sent an open records request, which asks for policies concerning coach or clergy-led prayer and records related to the chaplain's travel with the basketball team, among other documents. "We're trying to ensure the taxpayers aren't funding this illegal position," said Seidel.
FFRF's investigation into Dickie revealed that several other public universities in the Sweet 16 employ a chaplain. FFRF is investigating and will issue further information on that investigation tomorrow.
Four FFRF staffers, including Paige and Seidel, picked the No. 7 Wichita State Shockers to beat No. 3 Notre Dame in their Sweet 16 matchup on Thursday. Paige, a Wichita State alum, picked the Shockers to win it all, and currently sits in first place in FFRF's bracket group.