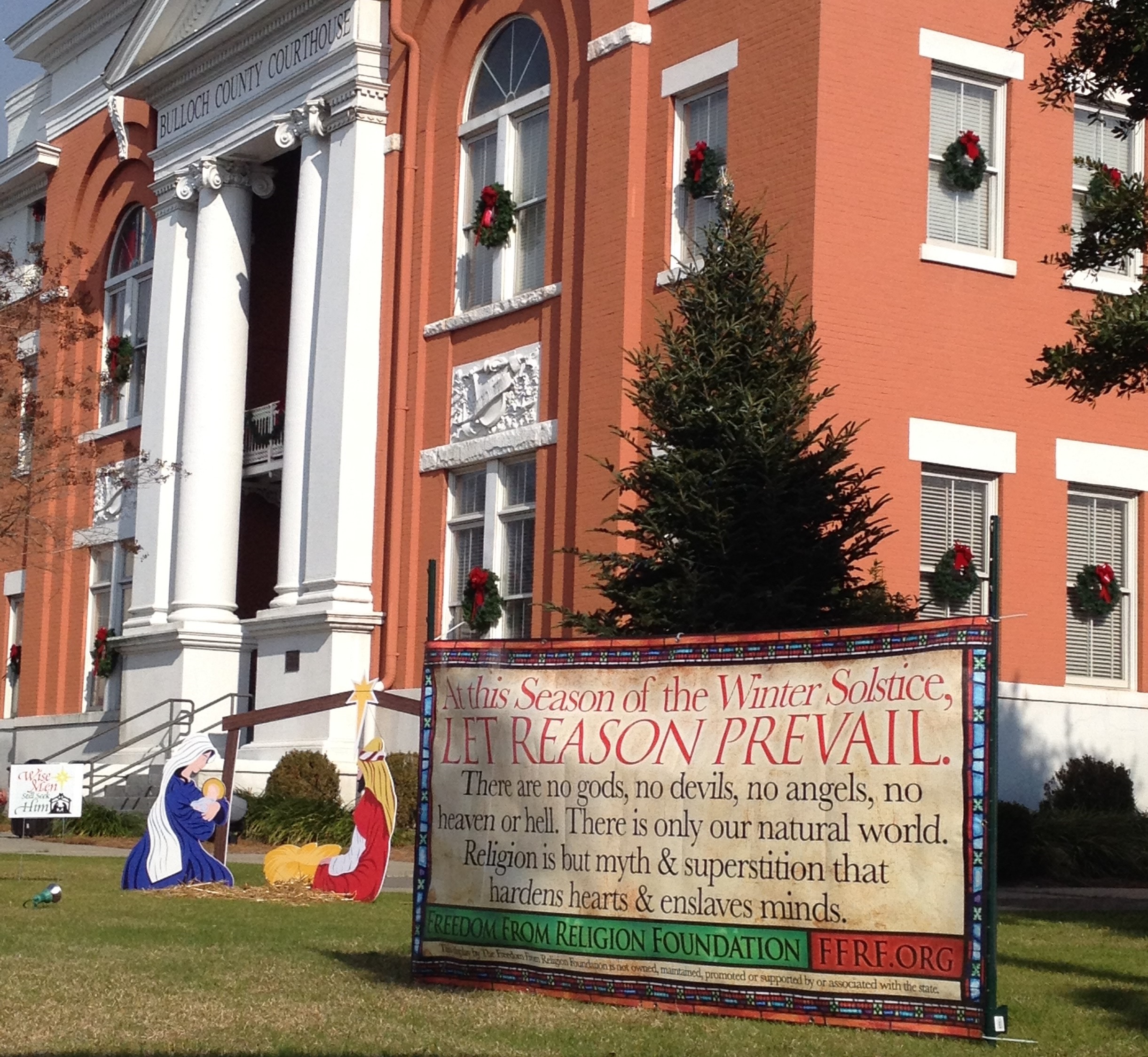 The Freedom From Religion Foundation set up a banner outside the Bulloch County Courthouse in Statesboro, Ga., in protest of a nativity scene hosted on the courthouse's lawn.
The prominent state/church watchdog, the nation's largest association of freethinkers (atheists and agnostics), is placing the banner on behalf of its more than 400 Georgia members and a chapter in the Atlanta area. The banner contains the seasonal adage of FFRF founder Anne Nicol Gaylor:
At this season of the Winter Solstice, let reason prevail. There are no gods, no devils, no angels, no heaven or hell. There is only our natural world. Religion is but myth and superstition that hardens hearts and enslaves minds.
The Winter Solstice, which occurred Sunday, is the shortest, darkest day of the year, signaling the rebirth of the sun and the natural new year. It's been celebrated for millennia with festivals of light, feasts, gift exchanges and the display of evergreens, which symbolize enduring life.
FFRF originally wrote to Bulloch County about the nativity last February, after learning it had sat alone on the courthouse grounds during the 2013 holiday season. "It is unlawful for Bulloch County to maintain, erect, or host a holiday display that consists mainly of a nativity scene, thus singling out, showing preference for, and endorsing one religion," wrote Staff Attorney Andrew Seidel.
The county responded Dec. 9, 2014, claiming the lawn was a public forum where anyone could put up a display. Calling the county's bluff, FFRF immediately put in motion plans to put up its own display.
"We nonbelievers are quite willing to celebrate the fun parts of anybody's holidays. Just spare us the schmaltz, the superstition — and the state/church entanglements," said Annie Laurie Gaylor, who co-directs FFRF.
Statesboro is also home to Georgia Southern University, where FFRF recently prompted the investigation and censure of a professor who promoted creationism and other religious beliefs in class.
FFRF thanks Don Armel and other local FFRF members, pictured below, for coordinating the local display.