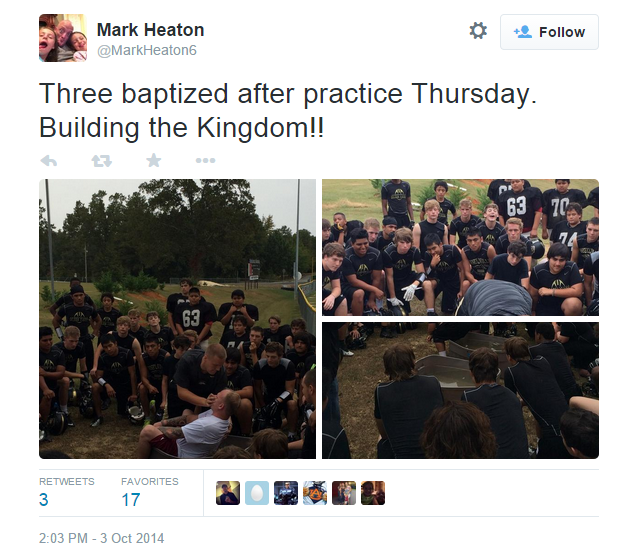 The Freedom From Religion Foundation sent a letter of complaint Oct. 22 to Russellville City Schools in Russellville, Ala., after receiving a report that the high school football team chaplain baptized players on the football field.
Mark Heaton, head coach and athletic director, and team chaplain Tanner Hall both boasted about the baptisms on social media. Heaton said, "Three baptized after practice Thursday. Building the Kingdom!!" Hall posted, "Man I love that God allows me to do what I do! Baptized players today after practice!"
FFRF Staff Attorney Andrew Seidel noted that it's illegal for a public school to "organize, sponsor or lead religious activity." He added, "Such sponsorship of religion is especially problematic in the context of athletics, given the pressure players feel to conform to what coaches expect of them so as not to affect their playing time or lose favor with the coaches."
Seidel also challenged Hall's position as team chaplain. "It is also inappropriate for a public school to offer religious leaders unique access to befriend and proselytize students. Accordingly, public high school football teams cannot appoint or employ a chaplain, seek out a spiritual leader for the team, or agree to have a volunteer team chaplain, because public schools may not advance or promote religion."
FFRF is asking Russellville City Schools to end the position of team chaplain and ensure there will be no more team baptisms or other inappropriate religious activity.
"The bible says there's nothing new under the sun, but as usual, the bible is wrong. We believe this is FFRF's first complaint about baptisms on a school football field," said FFRF Co-President Annie Laurie Gaylor.
FFRF's letter also addressed inappropriate religious content on teachers' personal Web pages accessed on the district's website. A ninth-grade math teacher's page says she sponsors the high school Christian Students United club and concludes with: "I am a member of Calvary Baptist Church, where I teach 5th grade Sunday School. My church and my faith are very important to me. I strive to live each day for Jesus and pray that His love is shown to my students through me."
The Equal Access Act says adults can be present at student religious meetings only in a supervisory capacity, Seidel noted.
FFRF is a nationwide state-church watchdog with more than 21,000 members, including about 200 in Alabama, as well as a local chapter, the Alabama Freethought Association.